Cities
Regions
Ports of Call

---
Freeport (Lucayan) Port of Call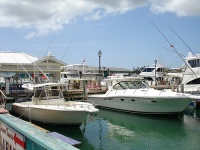 Lucaya Harbour © heather0714
There are various Eastern Caribbean cruises that feature Freeport as a port of call, bringing passengers from all over the world to revel in the natural splendour, beautiful beaches and near-perfect weather of this island paradise. Once there, passengers will find Grand Bahama is an idyllic island of white sandy beaches and beautiful waters.
In town there are plenty of boutiques and bazaars to explore, and a variety of restaurants to dine at. Local attractions include a number of casinos, Lucayan National Park, acclaimed dive sites and the island's natural flora and fauna. Kayaking in the mangrove creeks is also popular. Cruise ships dock at Lucayan Harbour, a ten minute drive from Freeport, on Grand Bahama Island. Lucayan Harbour has more than 100 berths, accommodating boats of up to 170ft (52m). The Lucayan Harbour Cruise Facility is a modernized cruise-passenger terminal featuring a Tourist Information centre and retail village.
---
Contact
The Grand Bahama Port Authority: www.gbpa.com/
Transport
Lucayan Harbour is a 10-minute drive from Freeport. Taxis are available from the pier and are metered but often charge a flat fee regardless. There are also vans to ferry passengers into town. Rental cars and scooters are available to hire.
Attractions
Port Lucayan's Dolphin Experience, where guests can watch and swim with dolphins, is a great tourist attraction on the island. And then, of course, there are the beaches. Lucayan, Taino and Gold Rock beaches are the most popular, while diving at Paradise Cove to see Deadman's Reef is a must.
Restaurants
Merport Bistro has a serene atmosphere and a fresh-food menu that's perfect for a relaxing breakfast or lunch date.
For sumptuous seafood, look no further than Cleveland's Beach Club.
Pisces Seafood House and Pizzeria serve up fresh seafood and pizzas, along with a good selection of cocktails.
Best Dish
Conch fritters are a Bahamian favourite. Conch (pronounced 'konk') is the meat from a large trumpet-shaped mollusc and is considered a Bahamian delicacy. In this dish, the meat is chopped and blended with herbs and spices, deep fried and served with a variety of dipping sauces.
Shopping
Grand Bahama Island has many shopping options for visitors to enjoy. Freeport's International Bazaar boasts more than 100 shops, with themed subdivisions representing different parts of the world, while Port Lucayan Marketplace and Marina is another major shopping area where tourists will find any number of bargains, from local produce to designer labels.
Best Buy
Artisanal, locally produced bottles of perfume, from The Perfume Factory at International Bazaar, are of high quality and a good buy for the discerning shoppers who want to take the fragrances of the Bahamas home.
Excursions
Eleuthera Island's Glass Window Bridge is a favourite among travellers and is most certainly worth the trip.
Visitors can take in the mysterious stone blocks off of the Bimini Islands, which locals claim to be remnants of the lost city of Atlantis.
Long Island boasts the world's deepest blue hole, called Dean's Blue Hole, a fascinating dive site that hosts the world championship for freediving.
The snorkelling on Paradise Island is world-renowned and beginners and seasoned ocean-lovers are sure to impressed.
Become our Bahamas Travel Expert
We are looking for contributors for our Bahamas travel guide. If you are a local, a regular traveller to Bahamas or a travel professional with time to contribute and answer occasional forum questions, please contact us.