Introducing Bangladesh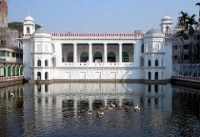 Hussaini Dalan, Bangladesh © David Stanley
From elaborately detailed clothes and ornately decorated taxis to crowded cities packed bumper to heel and temple to mosque, Bangladesh is bursting at its seams. So much detail packed into such little area. An eclectic near 160 million people cram into a tight 55,600 square miles (144,000 km) of land.
Bangladesh has stunning sites from the world's most famous rivers, to the world's longest beach, ancient ruins and sacred religious sites, all uncorrupted by commercialised tourism. The capital Dhaka is usually the tourist's port of entry. Here a hectic city centre comprises a pattern of narrow and cramped streets between a sprawl of low buildings.
Development is sometimes difficult as the country is often recovering from devastating floods and cyclones. The rivers of the Ganges, Brahmaputra and Meghna spread their waters into the world's largest delta. Monsoon rain and melted Himalayan ice flood the river banks annually. This provides fertile soil and lush vegetation for the mostly flat country, but also a hard pattern of life.
Features such as South Asia's largest shopping mall stand in testament to recent economic growth. Beginnings of foreign investments are giving Bangladesh a much needed bump into the world economy but it is also constructing a paradoxical society. At one end, steadily growing industries are trying to pull away from the country's vast majority of the poorest people at the other. City development gives visitors a tourist infrastructure within major cities but very little elsewhere.
Bangladesh will likely remain a country very few tourists will visit, buy those that do, presuming they possess an open mind, will seldom forget the experience.
Become our Bangladesh Travel Expert
We are looking for contributors for our Bangladesh travel guide. If you are a local, a regular traveller to Bangladesh or a travel professional with time to contribute and answer occasional forum questions, please contact us.