Ports of Call

---
Bridgetown Port of Call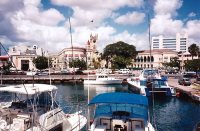 Bridgetown Harbour © Andrea 44
There are many Eastern Caribbean cruises that board and disembark in Barbados, an island nation justly famous for its friendly locals, superb beaches, excellent snorkelling and dive sites, and both natural and historic attractions.
One of the most popular ports of call for cruise ships in the Caribbean, Bridgetown is literally the place to be in Barbados; it's the island's only city and more than half of the population lives there. This means that cruise passengers calling in Bridgetown have a chance to get a real taste of life in Barbados, even if they're only there for a few hours.
There are a number of island attractions accessible from the Bridgetown Port, including the world renowned 'Platinum Coast' beaches running north from Bridgetown, intriguing cave networks and historical Jacobean buildings. A variety of activities like swimming, sun-tanning, snorkelling, hiking, and sightseeing are available to cruise passengers, as well as various shopping and dining options.
Cruise ships in Bridgetown dock at the pier about a mile (2km) from the city centre. Some visitors never even leave the state-of-the-art cruise terminal, which has a wide selection of Barbados's popular duty-free shopping.
---
Contact
Barbados Tourism Authority
Tel: +1 246 535 3700
Transport
Bridgetown is fairly small and most attractions are within walking distance in the city centre. Attractions further afield like the rum factories are best reached by taxi. There are car rental facilities right outside the cruise terminal for visitors who want to explore on their own.
Attractions
There are many interesting attractions in Bridgetown, ranging from museums and historical buildings to exciting events like horse racing and cricket matches. A number of lush gardens provide a great place for a picnic, or you can go underground exploring the caverns of Harrison's Cave by electric tram. Another fun activity popular with most tourists are the tours of the cigar factories and rum distilleries in town, including the famous Mount Gay Rum Distillery.
Restaurants
Waterfront Café - Bajan influenced café serving great Creole stir-fries
Champers - Exceptional fine dining with unbeatable seaside views
Mama Mia Deli - cosy restaurant serving great Italian food
Best Dish
Creole seafood stir-fry
Shopping
Shopping in Bridgetown is centred on Broad Street, and bargain-hunters will find plenty to buy in the shopping malls, souvenir shops, jewellery stores and boutiques there. Just outside of town, Pelican Village is the best place to go for local handicrafts like woven bags, batik fabrics and rum cakes. Swan Street, Roebuck Street and Tudor Street are home to smaller shops and a few roadside vendors. There are also more than 30 shops and vendors right in the cruise terminal. Duty-free shopping is plentiful in Bridgetown, and there are some real bargains to be had.
Best Buy
Mount Gay rum and handmade leather footwear from roadside stalls throughout town
Excursions
Explore the twists and turns of Harrison's Cave
Have a picnic by the waterfall in the Lazaretto Garden
Take in the picture-perfect scenery around the village of Bathsheba and sun yourself on Bath Beach
Visit the Barbados Museum at the old garrison
Take a tour of the Mount Gay Rum Refinery
Become our Barbados Travel Expert
We are looking for contributors for our Barbados travel guide. If you are a local, a regular traveller to Barbados or a travel professional with time to contribute and answer occasional forum questions, please contact us.