Introducing Belarus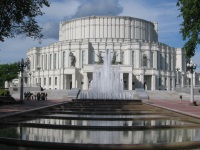 The Opera and Ballet Theatre of Minsk, Belarus © Gruszecki
Despite being landlocked, Belarus is a country apart set apart from its continental neighbours. It has stoutly resisted integration into Europe as well as the embrace of capitalism shown by other former Eastern Bloc countries.
While such isolationism has its negatives - the tyrannical rule of its president and its stringent visa requirements foremost among them - Belarus's Soviet-era atmosphere and relative isolation are also its primary attractions.
Not many visitors include Belarus in their summer vacation plans, but those that do get to experience a portion of Europe almost entirely free of consumerist trappings, litter, and advertising.
Moreover, foreign investment is discouraged and private enterprise is virtually non-existent, which results in a country that has evolved little in the last 20 years, providing visitors with a sense of time standing still.
There is no doubt that in many ways life in Belarus is hard for the populace, and the country has suffered more than its fair share of misery in its history, including losing more than two million of its people (particularly Jews) during the Nazi occupation of World War II.
In 1986, Belarus suffered the fallout from the Chernobyl nuclear power plant disaster just across its border in neighbouring Ukraine. Yet there is much that is bright and beautiful in the culture and natural attractions of Belarus.
Beyond the clean Stalinist lines of its capital Minsk, the tiny towns and villages of Belarus have medieval atmospheres and the national parks contain mysterious forests, murky bogs and swamps, thousands of smooth lakes, and a fascinating array of unspoilt eco-systems, fauna, and flora.
Visitors are encouraged to enjoy the great outdoors in the Vitebsk Region, where there are almost 50 designated tourist routes involving hiking, cycling, boating, hunting, and fishing. While hotels and health spas offer rest and relaxation, there are also art and music festivals throughout the region.
Belarus is a destination that rewards those seeking an original travel experience, with welcoming people, pristine nature, and traditional villages, all spiced up with interesting glimpses into a Soviet past that appears to live on in the country's isolated present.
Become our Belarus Travel Expert
We are looking for contributors for our Belarus travel guide. If you are a local, a regular traveller to Belarus or a travel professional with time to contribute and answer occasional forum questions, please contact us.