Introducing Benin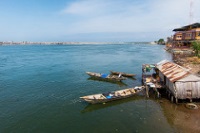 Benin was once one of the most powerful empires in Africa, although today the country enjoys a low profile marked by peace, and poverty. It's a country rich in history and culture located on the northern coast of the Gulf of Guinea in West Africa, bordered by Niger, Togo, Nigeria, Burkina Faso and the Atlantic Ocean. Benin ranks as one of the world's poorest nations, but is also one of the more stable countries to visit in Africa.
Benin played a major role in the slave trade in the 17th and 18th centuries and reminders of this era can be found in the countless monuments paying tribute to those deported to the West Indies and Brazil. It is in many aspects a very French country due to its colonial heritage. Cotonou has its own Boul' Mich (Boulevard Saint- Michel) and it is not uncommon to see Beninois locals walking around, a baguette tucked under one arm and a French newspaper clutched under the other.
There is a network of lagoons and swamps found along the coastline, which are navigable throughout all seasons, connecting rivers and big lakes, like Lake Aheme and Benin's longest river, the Oueme. The beaches along the coast of Benin, at Ouidah and Grand Popo, are also a major draw for tourists, but visitors should be aware of the occasionally strong rip tides at sea and which consequently limits water sport activities.
Benin was once the home of the ancient and powerful Dahomey Kingdom, and the ruined palaces and temples of this proud and intriguing culture can still be seen in Abomey. The museum in Abomey takes visitors on an eerie journey back in time through the history of the three ancient Abomey kingdoms. The museum used to be the grand palace of one of the kingdoms and a spine-chilling throne made of human skulls sits on display. The historic sites in Ouidah are also worth visiting, including the Portuguese fort and a colonial temple known as the Temple of the Sacred Python.
The northwest region is ruled by the Atakora Mountains, which tower as high as 3,000 feet (914 metres) and offer wonderful hiking opportunities. The two main tourist attractions are the national parks: Pendjari National Park and 'W' National Park, which feature a range of wildlife from hippos and crocodiles to the elusive cheetah.
It may not be the first country that springs to mind when thinking of a trip to West Africa, but Benin, the birthplace of voodoo, is as fascinating as it may be challenging, and is well worth exploring despite the general lack of tourist infrastructure.
Become our Benin Travel Expert
We are looking for contributors for our Benin travel guide. If you are a local, a regular traveller to Benin or a travel professional with time to contribute and answer occasional forum questions, please contact us.