Cities
Ports of Call

---
Hamilton Port of Call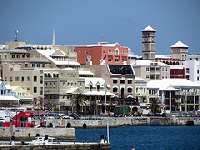 Hamilton © Jon Dawson
Hamilton, port city and gorgeous capital of Bermuda, is a small and picturesque pastel-coloured town retaining the strong character of its English colonial roots. Hamilton is a small town, which burgeons with regular influxes of visitors, and is home to clear waters and a sophisticated approach to island living.
There are many things to see and do in Hamilton and it is relatively easier to venture out into the rest of Bermuda from this central point. Visitors will find themselves sampling the local cuisine and cocktails, visiting craft markets or enjoying the spectacular natural beauty of the islands. For those interested in learning, the Bermuda Underwater Exploration Institute is sure to captivate, although it competes with historic Fort Hamilton and the natural beauty of Shelly Bay and Elbow beaches, as well as many golf courses.
Post-Panamax ships (more than maximum dimensions for the Panama Canal) cannot enter Hamilton Harbour making it less visited than it once was and often a ferry excursion from the King's Wharf which was built to accommodate larger vessels. Yet cruise liners less than 700 feet can enjoy Hamilton Harbour's central location at the heart of town.
---
Contact
Telephone: +1 441 536 4636
Website: www.bermudatourism.com
Email: travel@bermudatourism.com
A visitor centre is located at Walker Christopher premises in the Emporium Building.
Transport
Most of Hamilton is within easy walking distance of the pier. This includes most attractions in town. For more distant destinations a public bus service offers transportation as does a ferry service which can connect to King's Wharf. Taxies are widely available although they can be surprisingly expensive.
Attractions
The best attractions are lessons in the city's history and natural surroundings. These include the Bermuda Underwater Exploration Institute, which gives a simulated deep water experience, and the Bermuda Aquarium, Natural History Museum & Zoo. Fort Hamilton is a time capsule of English colonisation and anywhere along Front Street will also transport visitors back to Victorian times. Some exceptional golf courses also offer stunning views and scenery and are usually open to day visitors. Beach relaxation is always just down on the shoreline.
Restaurants
Blue Bar and Grill serves a range of fine, international, bistro-level fare.
Baracuda Grill offers classic surf and turf options in Hamilton's centre.
Hog Penny is a local hangout with pub food and a delcious, south Asian menu.
Best Dish
Bermuda's best dish is also its national dish, fish chowder. Originally considered a meal for those lower financial standing, today it is embraced by everyone as simply delicious cooking.
Shopping
The best place for shopping is directly off the cruise ship at Front Street. Hamilton has duty free shopping although high prices may negate the tax free benefits. A trip over to King's Wharf offer some additional shopping opportunities.
Best Buy
Local Bermudan crafts are a must for visitors looking for souvenirs. Highlights include fine, glass jewellery and excellent products carved from local cedar wood.
Excursions
Explore Horseshoe Bay.
Discover King's Wharf.
Marvel at the Crystal Caves.
Explore Harrington Sound
Become our Bermuda Travel Expert
We are looking for contributors for our Bermuda travel guide. If you are a local, a regular traveller to Bermuda or a travel professional with time to contribute and answer occasional forum questions, please contact us.