Introducing Bolivia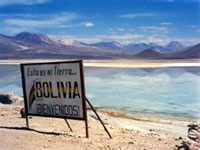 Salar de Uyuni © Judith Duk
Bolivia Travel Guide
Bolivia shares the aura of mystery and ancient culture which draws travellers to much of South America, and is an increasingly popular destination for adventure tourism and budget travel. It is rugged, unpolished, and someimes overwhelming, but this diamond-in-the-rough richly rewards exploration. Bolivia lures courageous tourists and is ultimately a wild place, promising the sweaty splendour of the Amazon jungle, the vast, white emptiness of the world's largest salt flats, and the towering heights of the Andes.
Although dramatic natural landscapes are enough to justify a visit for many, Bolivia also commands respect for its cultural and spiritual wealth: the country is home to the ancient Aymara, Tiahuanaco and Inca civilisations, among many others, and proudly enshrines cultures and languages found nowhere else on Earth. In fact, Bolivia is celebrated as having the most concentrated indigenous population in Latin America, with much of the population still embracing the beliefs, rituals and lifestyles of their ancient predecessors.
Bolivia is an authentic gem yet to be exploited by commercialism and is sure charm visitors into many return trips.
Best time to visit Bolivia
Bolivia boasts a great variety of landscapes and altitudes, making climate extremely variable, depending on the region. Winter, between May and October, is the dry season and the most popular time to visit, but travellers should make their decision on when to visit Bolivia based on their desired activities (the desert and highlands become extremely cold during the winter months).
Read more on Bolivia's Climate and Weather.
What to see in Bolivia
-Explore Lake Titicaca, the highest navigable lake in the world.
-Visit the resort town of Coroico, traversing the infamous 'Road of Death' to get there!
-Marvel at the bizarrely beautiful Salar de Uyuni, the largest salt flat in the world.
-Follow the trail of Butch Cassidy and the Sundance Kid from Tupiza.
See more Bolivia Attractions.
What to do in Bolivia
-Begin an Amazon adventure from the frontier jungle town of Rurrenabaque.
-Climb the imposing Huayna Potosi.
-Tour the primitive and fascinating Cooperative Mines of Cerro Rico.
-Trek through the beautiful and diverse Amboro National Park.
Read about Bolivia Attractions.
Getting to Bolivia
There are limited direct flights to Bolivia from the US, out of Miami and headed for La Paz; however, there are no direct flights from the UK. Indirect flights are available and most commonly land at El Alto International Airport, eight miles (14km) southwest of La Paz, and Santa Cruz Viru Viru International Airport, in Santa Cruz de la Sierra. Get more information on Bolivia Airports.
Read
The Bolivian Diary of Ernesto Che Guevara by Ernesto Che Guevara, The Night by Jaime Saenz, and Whispering in the Giant's Ear by William Powers.
Listen
Emma Junaro, and the band, Octavia.
Watch
Butch Cassidy and the Sundance Kid (1969), Che (2008), and Quantum of Solace (2008).
Drink
Singani, Bolivia's national drink, and energising coca beer, called Ch'ama, which helps locals and travellers overcome altitude sickness.
Eat
Salteñas (savoury pastries filled with meat and vegetables) are the national dish, and both escabeche (pickled vegetables) and quail's eggs make delicious snacks.
What to buy
Assorted handicrafts are the best Bolivian souvenirs, with different regions specialising in different skills. Popular buys include ceramics, silver and tin trinkets, and textiles.
What to pack
Medication for altitude sickness is a must for many travellers. Don't underestimate either the hot Bolivian day or the cold Bolivian nights!
Did you know?
-La Paz and Potosi are some of the world's highest cities.
-Bolivia is incredibly culturally diverse with over 30 indigenous languages.
-Bolivia is also one of the most biodiverse countries in the world.
A final word
Striking landscapes, fascinating local traditions, and low prices make it more than worthwhile to rise to the challenge of Bolivia.
Become our Bolivia Travel Expert
We are looking for contributors for our Bolivia travel guide. If you are a local, a regular traveller to Bolivia or a travel professional with time to contribute and answer occasional forum questions, please contact us.
Tour operator G.A.P Adventures has for the past 14 years specialised in unique, small group, grassroots adventure travel experiences in the world's most wild places, going off the beaten track into the heart of the destination to meet the locals who call it home. G.A.P. Adventures offers several expeditions to the Bolivian Amazon and Andes.
ADVERTISEMENT
---
Intrepid Travel, one of the world's leading suppliers of small group adventures, focuses on getting off the beaten track, interacting with the locals and having real life experiences throughout Bolivia.
ADVERTISEMENT
---