Introducing Bosnia And Herzegovina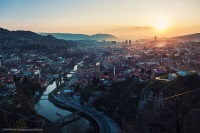 Sarajevo © Michal Huniewicz
Bosnia and Herzegovina is a small, heart-shaped country in southeastern Europe steeped in history, with everything from Roman annexation and Slav invasion to around 500 years of Ottoman rule playing a major role in its past. More recently, in the 1990s Bosnia and Herzegovina gained independence from socialist Yugoslavia in a violent upheaval that the country has now emerged from. Its tumultuous background has furnished Bosnia and Herzegovina with a culturally diverse and surprisingly hospitable people.
Travellers can enjoy the rich history of the capital city Sarajevo or the warm and sunny Mediterranean climate of Neum, a resort town on the Adriatic coast. Other attractions to draw visitors are Medugorje, the Catholic pilgrimage site where visions of the Virgin Mary were reported in the 1980s, and the Kravica Waterfalls near Ljubuski. The country is also home to beautiful mountains, medieval castles and cascading rivers. Winter sports enthusiasts will also find plenty of opportunities for a fraction of the cost of those in more established European destinations.
Bosnia and Herzegovina also offers great city breaks, sports and eco-adventures, in fact it is primarily in eco-tourism that the country is beginning to make its name. As it proudly establishes itself as a new and exciting tourist destination, visiting Bosnia and Herzegovina should prove to be a remarkable and fulfilling vacation experience for those willing to explore the road less travelled on their European holidays.
Become our Bosnia And Herzegovina Travel Expert
We are looking for contributors for our Bosnia And Herzegovina travel guide. If you are a local, a regular traveller to Bosnia And Herzegovina or a travel professional with time to contribute and answer occasional forum questions, please contact us.