Jost van Dyke Port of Call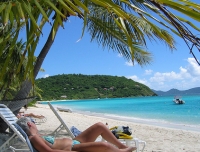 Jost Van Dyke © jjjj56cp
Jost van Dyke is quite simply the most relaxing and laid-back island in the Caribbean. The main street is a beach, electricity only got there 20 years ago, and visitors outnumber the population of around 300 people. This is taken to new extremes every New Year's Eve, when Jost lives up to its nickname 'the Party Island'.
Jost (pronounced 'joast') is the smallest of the British Virgin Islands and is located about 5 miles (8 km) northwest of Tortola. Its beaches are flawless and the azure-coloured waters of its magnificent bay unparalleled. Cruise ships dock in the bay and tender passengers to either Great Harbour or the White Bay Beach. The two bays are connected by a hilly walkway or short jeep ride.
---
Contact
British Virgin Islands Tourist Board
INFO@BVITOURISM.COM
Transport
Jost van Dyke is only 4 miles long (6km) so walking is really the best option. There is a jeep rental agency and a single taxi operator too. Water taxis are available for short trips to nearby smaller islands.
Attractions
Great Harbour has laid-back beach bars and a few historical buildings, but Jost's main attractions involve natural sights and experiences. The beaches of White Bay are simply perfect and quite likely to be deserted. Travellers should visit Diamond Cay Bird Sanctuary and then take a swim in the natural Jacuzzi of Bubbling Pool. For a view of the entire island and some great photo opportunities, visitors can climb Roach Hill, which at 320 meters, is the highest point on the island.
Restaurants
Soggy Dollar - great fish and a relaxing vibe in peaceful White Bay.
Foxy's Tamarind Bar - the place to relax; reliable eating, island style.
Sidney's Peace & Love- probably the best lobster in the world.
Best Dish
Flying fish sandwich or the lobster, with a Painkiller cocktail.
Shopping
This is not a shopping destination and frankly there is little to buy and no bargains to be had. Cocoloco's in White Bay has some nice clothing and Foxy's in Great Harbour sells a variety of gifts.
Best Buy
A local novelty t-shirt.
Excursions
Snorkel off Sandy Cay, owned by the Rockefeller family.
Take an hour long ATV adventure tour of the island.
Visit nearby Tortola, or any of the other British Virgin Islands.
Become our British Virgin Islands Travel Expert
We are looking for contributors for our British Virgin Islands travel guide. If you are a local, a regular traveller to British Virgin Islands or a travel professional with time to contribute and answer occasional forum questions, please contact us.