Cities
Introducing Brunei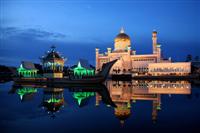 Sultan Omar Ali Saifuddin Mosque at dusk © Sam Garza
Despite its modest size the sultanate of Brunei Darussalam has a huge wealth of both natural resources and worthwhile tourist attractions. Few people consider this tiny nation at the top of Borneo to be a destination in its own right but those that do are rewarded by one of the safest, most environmentally pristine countries in Asia. The majority of visitors, however, experience Brunei either as a passenger en route elsewhere or a business traveller taking advantage of its burgeoning role as a regional economic hub.
Brunei's culture is shaped by its Malay majority and deeply entrenched Islamic traditions, bound together by the sultanate's uninterrupted 600-year royal heritage. Citizens enjoy one of the world's highest standards of living with free healthcare, education,and housing thanks to the largesse of the Sultan, who is the sole beneficiary of the country's oil reserves.
Located on the north tip of the island of Borneo, the country is divided into two unconnected halves: 97 percent of the population live in the larger western half where the modern capital Bandar Seri Begawan (BSB) is located, while an estimated 15,000 people live in the predominantly rural and mountainous eastern half. Adventurous travellers are drawn to the natural splendour and adrenalin charged sporting activities of this region, most of which is virgin rainforest.
Visitors to BSB can enjoy architectural treasures such as the Sultan Omar Ali Saifuddien Mosque, the fascinating traditional water villages, and the Sultan's palace, Istana Nurul Iman, which is the world's largest palace still in use. BSB also has some worthwhile beaches, most notably Jerudon which has gorgeous white sands and a child-friendly amusement park to one side of it.
Become our Brunei Travel Expert
We are looking for contributors for our Brunei travel guide. If you are a local, a regular traveller to Brunei or a travel professional with time to contribute and answer occasional forum questions, please contact us.