Introducing Burkina Faso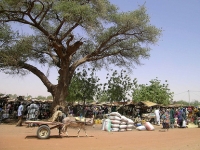 Gorom Gorom market © c.hug
Burkina Faso's name translates into 'the land of upright people' although it equally well known for the remarkable hospitality of the locals, its stable political situation, and vibrant cultural life.
Burkina Faso is landlocked, bordered by Mali, Niger, Benin, Togo, Ghana and Côte d'Ivoire. With sixty different ethnicities, this nation is a diverse blend of culture and traditions. Burkina Faso is ranked as one of the poorest countries in the world, and the most illiterate.
There are a surprising number of tourist attractions in Burkina Faso, despite the fact that very tourists ever visit here. The capital Ouagadougou is an agreeble place with excellent restaurants and entertainment options and famously friendly citizens. The most interesting city to visit is Bobo Dioulasso, known throughout West Africa for its music and nightlife, and as the home of the Djembe drum. The city's atmospheric Old Quarter and Grande Mosque are also well worth visiting. Another city, Gorom Gorom, is famed for its Thursday market and for the Feminine Artisan Centre of Gorom, where the local women demonstrate their skill in art, sculpture and pottery. Other camera-worthy Burkino Faso attractions include the granite-sculpting artists of Loango, the sacred crocodiles of Sabou, the mausoleum commemorating Princess Guimbi Ouattara and the natural waterfall of Banfora.
Getting around Burkina Faso entails roughing it a bit, but the adventure and scenery is compensation enough for the inconvenience of potholed roads. There is a train service running from Ouagadougou, the capital city, to the main towns but flying is invariably the quickest travel option. Credit cards are rarely accepted throughout the country, but cash can be withdrawn with a card at certain banks in Ouaga and Bobo. Mastercard is also not widely accepted at ATMs. Some travellers' checks can be cashed at local banks in the city.
This diverse destination has a tropical climate with two very distinct seasons; the rainy season and the dry season. The Harmattan season runs from November to January and, although windy and dusty, it is considered the best time to visit because it's usually dry and cooler.
Burkina Faso will interest travellers looking for a rich and varied slice of West African life in the company of some of continent's friendliest people.
Become our Burkina Faso Travel Expert
We are looking for contributors for our Burkina Faso travel guide. If you are a local, a regular traveller to Burkina Faso or a travel professional with time to contribute and answer occasional forum questions, please contact us.