Introducing Central African Republic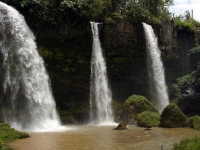 Toutoubou Falls, CAR © Richard Franco
With a history of turmoil and ongoing internal conflict, Central African Republic (CAR) is not a particularly safe travel destination. Years of tyranny under the Bokassa regime has rendered it one of the poorest countries in the world. However, it does have friendly locals, natural splendour and amazing wildlife.

From Bangui, the capital city, adventurous visitors travel to see gorillas or elephants in the Dzanga-Sangha National Park, or visit the Toutoubou Falls near Berberati. A cultural feature worth looking into is the local belief in the mythical African Mbuti Pygmies.

Most of the republic's environment is made up of savannas, but there are also equatorial forests and the vast basins of the Ubangi River. The climate is generally wet from May to November and drier from November to April, although the dry season lasts a bit longer in the south.
Become our Central African Republic Travel Expert
We are looking for contributors for our Central African Republic travel guide. If you are a local, a regular traveller to Central African Republic or a travel professional with time to contribute and answer occasional forum questions, please contact us.