Introducing Chad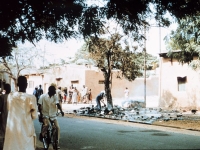 N'Djamena © Amcaja
The Republic of Chad, in central Africa, is one of the continent's most troubled nations. Political conflict and violence are rife and N'Djamena, the capital, is where most of the fighting occurs. As a consequence, this is one of the poorest countries in the world; most Chadians live as subsistence farmers and herders.
As far back as 700 BC, people moved into the Chadian basin in great numbers. Today it is home to over 200 different ethnic groups, with Arabic and French as the official languages, and Islam the most widely practised religion. Its landlocked location and desert climate have earned Chad the title 'Dead Heart of Africa', with a Sudanese savannah area in the south and the second largest wetland in Africa: Lake Chad, after which the country is named.
The near-constant conflict discourages most people from a holiday in Chad, with the British Foreign Office advising against non-essential travel to the country. Most visitors simply spend a day in N'Djamena, browsing the local markets and visiting the Chad National Museum. The nearby village of Gaoui makes a pleasant excursion, offering traditional architecture and pottery, as well as a small museum.
While safaris in Chad are not a wildly popular activity, Zakouma National Park is among the best game reserves in central Africa; visitors can spot herds of elephants and giraffes, as well as lions, wildebeest, and many other animals. Another popular attraction in Chad is the stunning desert landscape of Ennedi.
Become our Chad Travel Expert
We are looking for contributors for our Chad travel guide. If you are a local, a regular traveller to Chad or a travel professional with time to contribute and answer occasional forum questions, please contact us.