Ports of Call

---
Introducing Colombia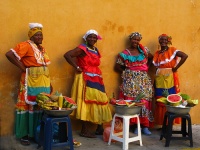 Colombian vendor women © Luz Adriana Villa
Colombia Travel Guide
Despite a 40-year-long civil war and a reputation for violence, Colombia has emerged as the darling of South American destinations. Improved security conditions have opened the country to the world's travellers, who can look forward to cloud-forested mountains, pristine Caribbean beaches, gorgeous colonial architecture, and mysterious archaeological ruins when they visit. Nature lovers can enjoy a huge range of ecosystems, from the Amazon rainforest near Leticia to the tropical islands of San Andres and Providencia, and the snow-capped peaks of the Sierra Nevada de Santa Marta. In turn, culture seekers can indulge themselves in vibrant cities, where salsa dancing and delicious foods are the order of the day.
All things considered, Colombia has rightly made its way onto the global tourism radar. Visitors will not be disappointed.
Best time to visit Colombia
Colombia receives a lot of wet weather because of its tropical climate. The best time to visit is between December and March, when it rains the least. This is peak tourism season, though, and prices rise accordingly. Off-peak season runs from August to September and is less crowded and less expensive. Travellers should avoid visiting from May to July, and again from October to November, as rainfall is heaviest during these periods.
What to see in Colombia
- La Candelaria's beautiful colonial architecture.
- Cartagena's Palace of Inquisition, which hosted the Sentencing Tribunal of the Holy Office in the 18th century.
- Tayrona National Park for its rich biodiversity.
What to do in Colombia
- Visit San Gil in Northern Colombia for extreme sports such as canyoning, bungee jumping, paragliding and white-water rafting.
- Learn to kitesurf in La Guajira, which is one of the world's premier kitesurfing destinations.
- Play tejo: Colombia's official national sport. Players throw heavy chunks of metal at gunpowder until it explodes.
Getting to Colombia
Colombia is well connected by air to major cities in South and Central America. It's also accessible from a number of major destinations in the US, Canada and Europe. Get more information on Colombia airports.
Read
One Hundred Years of Solitude, by Gabriel Garcia Marquez, Maria, by Jorge Isaacs, The Armies, by Evelio Rosero.
Listen
Donde Estan los Ladrones? (Shakira) and Toque de Clase (Joe Arroyo).
Watch
The Wind Journeys (2009), Land and Shade (2015)
Drink
Aguardiente, rum and chocolate Santafereno.
Eat
Bandeja Paisa (rice, plantain, corn cakes, avocado, minced meat, chorizo, black sausage and fried pork rind with an egg on top), Empanadas (cheese or meat-filled pasties), Sancocho (traditional Columbian stew).
What to buy
Wayuu mochila bags (crochet), volteado hats.
What to pack
Insect repellent and a water purifier - there's almost no drinkable tap water.
What's on in Colombia
The Festival de Luces (Festival of Lights) takes place in December and is set in the historic city of Villa de Leyva. Its fireworks display serves as a prelude to Christmas.
The Feria de las Flores (Flowers Festival) is Medellin's biggest festival. The annual event takes place in August and celebrates Paisa culture (northwest Colombia).
Did you know?
Colombia is the second most biodiverse country in the world. Brazil comes in first, though it's ten times the size of Colombia.
Colombia is the world's leading source of emeralds.
A final word
Tremendous biodiversity and a rich cultural heritage make Colombia a must-see South American destination.
Become our Colombia Travel Expert
We are looking for contributors for our Colombia travel guide. If you are a local, a regular traveller to Colombia or a travel professional with time to contribute and answer occasional forum questions, please contact us.
Tour operator G.A.P Adventures has for the past 14 years specialised in unique, small group, grassroots adventure travel experiences to the world's most wild places, going off the beaten track into the heart of the destination. G.A.P Adventures offers several expeditions to Colombia and her surrounds.
ADVERTISEMENT
---
iExplore designs made-to-order, privately-guided adventure tours to Colombia and over 200 other world wonders. Come Back Different!
ADVERTISEMENT
---