Introducing Comoros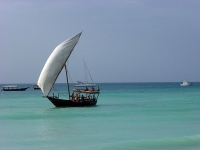 A Dhow off Comoros © Matt Crypto
The islands of the Comoros do not receive the same attention and approbation as their island neighbours, which is surprising: they offer picture-perfect beaches, turquoise waters hemmed in by coral reefs, fantastic sunsets, and air scented with the tropical perfume of vanilla, nutmeg and ylang-ylang. A history of political instability has left the islands with one of the poorest and most undeveloped economies in the world, and since independence from France in 1975 the political atmosphere on the islands has been volatile, with something like 20 coups, but this instability seldom causes trouble for tourists.
Located almost halfway between the island of Madagascar and Mozambique, off the east coast of Africa, the archipelago constitutes four major islands that were formed by volcanic activity. Three of these islands form the Comoros, while the fourth, Maore (Mayotte), is part of France, choosing to remain under French rule after the other islands voted for independence. This divide in the archipelago has been the cause of many tensions, and despite being administered by France, the Federal Islamic Republic of the Comoros claims Mayotte as its own.
Of the Comoros islands, Ngazidja (Grand Comore) is the largest and the most westerly island, dominated by a large active volcano, Mount Karthala. It is also home to the capital of the Comoros, Moroni, which is a charming town with narrow winding streets in the old Arab Quarter and several beautiful mosques. The sparsely populated island of Mwali (Moheli) is the smallest in the group and the least developed, with pristine tropical forests and secluded beaches. The most spectacular island, the 'pearl of the Indian Ocean', is Nzwani (Anjouan), the archipelago's main producer of perfume essences including jasmine and ylang-ylang, and also the most populated island. Its ancient capital and seaport, Domoni, was a major trading centre in the 15th century along the mercantile routes of the Indian Ocean from Africa to Asia, which became obsolete with the opening of the Suez Canal in 1869.
The cessation of maritime trade, together with the shrinking demand of its major exports and economy mainstays, such as essential oils and spices, has resulted in these 'Perfumed Isles' becoming the 'Forgotten Islands' of the Indian Ocean. But the islands offer a fantastic holiday for those seeking a destination where nature and scenery hold the biggest appeal: there is superb diving in an underwater wonderland of corals and fish, a variety of animal and bird life that is unique to the islands, and diverse terrain from volcanic craters to undisturbed beaches to explore.
Become our Comoros Travel Expert
We are looking for contributors for our Comoros travel guide. If you are a local, a regular traveller to Comoros or a travel professional with time to contribute and answer occasional forum questions, please contact us.