Introducing Congo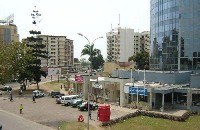 Brazzaville ©
Not to be confused with its embattled neighbour to the east, the Democratic Republic of the Congo, the Republic of the Congo offers the same conditions, an equally unadulterated wilderness but less political instability. The northern rainforests are virtually uninhabited, or rather, are uninhabitable because of the dense undergrowth and vast swampland. A congested 85% of the population reside in and between the capital of Brazzaville and Pointe-Noire, only 332 miles (534 km) apart.

While the Republic does not have a developed tourist industry having just emerged from six years of civil war, there is still plenty to do. The Odzala National Park is one of the largest in Africa and revered for its conservation of forest elephants and western gorillas. Brazzaville is located right on the banks of the Congo River and a popular launch point for white water rafting expeditions over the river's exciting rapids. Down the rail line, to the coastal town of Pointe Noire, one can savour the warm, if somewhat narrow, beach-line of the Atlantic Ocean.
Become our Congo Travel Expert
We are looking for contributors for our Congo travel guide. If you are a local, a regular traveller to Congo or a travel professional with time to contribute and answer occasional forum questions, please contact us.