Regions
Ports of Call

---
Dubrovnik (Gruz) Port of Call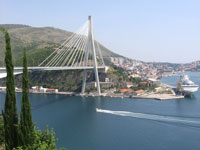 Dubrovnik Port © Julo
Dubrovnik, with it's UNESCO-listed historic centre and gorgeous coastline, is a very popular destination for cruise passengers; in fact, this 'Jewel of the Adriatic' is a common stop on Mediterranean cruises and is fast becoming one of the most sought after highlights on a Mediterranean cruising adventure. Relaxed, historic and picturesque, Dubrovnik is a great city to explore on foot and welcomes more than a million cruise passengers each year. The city enthrals tourists with one of the most beautiful old ports in the world, and Dubrovnik's old harbour area is the touristic centre of Croatia even for those who don't arrive by water.
Cruise ships dock at Gruz Harbour in a suburb of Dubrovnik, while smaller ships are sometimes permitted to dock in the Old Harbour, which is located in the heart of the old city and is almost impossibly picturesque. Big cruise liners either ferry their passengers into the historic harbour area or provide shuttles to the historic centre.
---
Contact
Dubrovnik Tourist Office, Svetog Dominika 7
Tel: +38 5203 12011
Transport
The city is located very close to the port and getting around on foot is a feasible option in the old city, which is closed to cars. Many cruise ships provide free shuttles to the city from Gruz Harbour, and local buses can be found just outside the pier gates. Exact change is usually required for bus fare. Taxis are available from the pier but are naturally much more expensive than the buses; it is a good idea to agree on a fare before setting off.
Attractions
Dubrovnik has a beautiful old town peppered with plenty of monuments, ancient buildings and fountains. The marbled main road, The Stradun, is the main thoroughfare. Cruise passengers should consider visiting the 14th-century Franciscan Monastery, the Dominican Monastery, the Rector's Palace, and the Fort of St John Maritime Museum and Aquarium, among other things. Walk the giant old wall that fortifies the city for exquisite views.
Restaurants
Pizzeria Castro - popular eatery serving primarily pizza
Lokanda Peskarija - seafood eatery with outside tables and lovely views
Porat - local Dalmation cuisine and seafood served in style
Best Dish
seafood risotto
Shopping
Shopping around the pedestrian old town is fun and many great bargains can be found along the marble-paved Stradun, although arts and crafts in this well-trod tourist hub are not cheap. Local artists sell their watercolour and oil paintings in local markets, where other interesting souvenirs can also be bought. Popular Dubrovnik souvenirs include embroidered tablecloths and linen, Dalmation wine and delicious preserves and dried fruit. If in search of more conventional designer gear, head to the Lapad Shopping Center where all the usual international chain stores can be found.
Best Buy
Crocheted doilies, embroidered tablecloths
Excursions
Kayak round the Adriatic
Take a boat to Cavtat
Sunbathe on Banja Beach
Walk the wall that encircles the city
Visit Lokrum island
Become our Croatia Travel Expert
We are looking for contributors for our Croatia travel guide. If you are a local, a regular traveller to Croatia or a travel professional with time to contribute and answer occasional forum questions, please contact us.