Regions
Introducing Cuba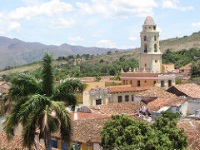 Cuba © Stephen Colebourne
Cuba Travel Guide
There are very few countries in the world as richly and immediately evocative as Cuba. Just the mention of its name seems to conjure images of faded Spanish-Colonial buildings, 1950s-era American cars parked on sun-soaked street corners, and salsa dancing to the libidinous beat of Afro-Cuban rhythms.
Broadly speaking, Cuba attracts two kinds of tourists. First are those attracted by the fascinating recent history of the country, which despite having withstood over 60 years of communist rule, US embargoes, and the sudden withdrawal of Soviet Union-sponsored subsidies in 1991, has not lost any of its national character. Others choose to holiday in Cuba for its magnificent white-sand beaches, staked with lush palm trees and framed by some of the best diving and snorkelling sites in the world.
There is much to see and do in Cuba, encompassing historical attractions (such as the Museum of the Revolution and the Bay of Pigs Museum), wonderfully charming small towns, beautiful natural surrounds (the Vinales Valley), world-class beaches (the Playas del Este), and - of course - more hedonistic pursuits, such as cigar factory tours, salsa dancing, and more bars and nightclubs than even Hemingway could've been thrown out of at closing time.
While it must be mentioned that Cuba suffers from a lack of infrastructure - and might not provide the most 'comfortable' travel experience - those willing to just 'go with the flow' will be richly rewarded.
Best time to visit Cuba
The best time to visit Cuba is between December and May, when days are warm, dry and sunny. Between June and November, Cuba can be very hot, humid and wet - although on the plus side, as this is low tourist season, accommodation will be cheaper and tourist attractions will be less crowded. Read more on Cuba's Climate and Weather.
What to see in Cuba
-The Museo de la Revolucion in Havana provides a fascinating introduction to Cuba's colourful recent history.
-Sancti Spiritus is a beautiful colonial city, largely untouched by mass tourism.
-Even non-smokers should take a tour of one of Cuba's famous cigar factories (Partagas is always a favourite).
-Afro-Cuban dance and musical performances are an integral part of Havana nightlife. Read more about Cuba Attractions.
What to do in Cuba
-Join the sunset crowds for a walk along El Malecon, a 5-mile (8km) in Havana.
-Spend the day between relaxing on the soft white sand and cooling off in the azure waters in Cayo Largo Del Sur.
-Take some iconic photographs of 'Yank Tanks' (50's-era American cars) parked in front of faded pastel-coloured buildings in Old Havana (Habana Vieja).
-Visit the extensive subterranean world of Gran Caverna de Santo Tomás.
Getting to Cuba
There are cheap flights to Cuba available from the UK and the USA. Direct flights to Jose Marti International Airport (located 11 miles or 18km from Havana) are only available from the UK; passengers entering from the USA must take an indirect route. Get more information on Cuba Airports.
Read
Havana Fever by Leonardo Padura, The Old Man and the Sea by Ernest Hemingway, Explosion in a Cathedral by Alejo Carpentier, and Before Night Falls by Reinaldo Arenas.
Listen
Buena Vista Social Club OST, Chucho Valdes, Equis Alfonso, Celia Cruz and Interactivo.
Watch
Buena Vista Social Club (1999), Che (2008), Suite Habana (2003), and Death of a Bureaucrat (1966).
Drink
Rum cocktails - including the Cuba Libre (rum and cola) and Mojito (rum, lime, sugar, mint leaves, club soda and ice).
Eat
Cajita, a plate full of rice, beans, vegetables, pork or chicken and plantains.
What to buy
Che Guevara t-shirts, rum and cigars are obvious and popular souvenirs.
What to pack
Take lightweight clothing, a raincoat, a swimsuit, comfortable shoes as well as sandals, plenty of sunscreen and good insect repellent.
What's on in Cuba
The Havana Carnival (July and August) is a street-party like no other, with costumes, fireworks, dancing and musical performances carrying on long into the night. The Havana Jazz Festival (December) is attended by thousands of jazz fans from all over the world. The International Festival of New Latin American Cinema (December) screens the best new independent cinema from Caribbean and Latin American film-makers. More information on Events in Cuba.
Did you know?
-Cubans have a higher life expectancy than Americans.
-Cuba has the highest doctor-to-citizen ratio of any country in the world.
-When Christopher Columbus reached Cuba in 1492, he thought he was disembarking on Chinese shores.
-Cuba is home to nine UNESCO World Heritage Sites.
A final word on Cuba
Leave your preconceptions at home and head to Cuba for a sun- and fun-filled holiday the likes of which you'll never forget.
Become our Cuba Travel Expert
We are looking for contributors for our Cuba travel guide. If you are a local, a regular traveller to Cuba or a travel professional with time to contribute and answer occasional forum questions, please contact us.