Ports of Call

---
Willemstad Port of Call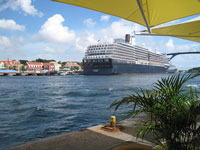 Cruise ship in Willemstad © randal-shwartz
The vibrant island of Curaçao greets visitors with its trademark bright pastel-coloured houses. First discovered by the Spanish in 1499, Curaçao was eventually settled by the Dutch in 1634, a heritage clearly reflected in the distinctive and colourful colonial architecture of port Willemstad.
Key sights in Willemstad include the limestone Hato Caves, the Landhuis Chobolobo where visitors can see how Curaçao liqueur is made, the Amstel brewery, and Mikve Israel-Emanuel, thought to be the oldest synagogue still in use in the New World.
Ships dock at the UNESCO World Heritage Site of Willemstad, which has become a bustling cosmopolitan city with an old-world European charm. The city is split into two halves by the Santa Anna Bay to create two distinct areas, namely Punda and Otrobanda. Larger ships dock at the new Curaçao Mega Pier, while the smaller variety dock at the Curaçao Cruise terminal.
---
Contact
Curaçao Tourist Board, Pietermaai 19
Tel: +5999 434 8200
Transport
Taxis are readily available at the port, but passengers should negotiate and agree on a fare before departure. Passengers travelling on common urban routes can jump in a 'collective' car or van. These are identified by the word 'bus' on the license plate. Avis and Budget have car rental offices in Curaçao. Visitors to Curaçao can walk to the Queen Emma Bridge, a landmark floating pedestrian bridge. However, if the bridge is up, a free ferry ride to the other side is available.
Attractions
With wonderful art galleries showcasing everything from traditional to post-modern 'Bumper Art', Curaçao's creative community is bustling. Don't miss the anthropological Museum Kura Hulanda, which displays African exhibits dating back to 500 BC and other Curaçao cultural exhibitions, while the Curaçao Sea Aquarium is a must for those travelling with kids.
Restaurants
The Wine Cellar - excellent seafood in a romantic setting.
Baoase Culinary Beach Restaurant - great Caribbean food served right on the beach.
Pirate Bay Beach Bar - seafood in a relaxed and fun setting with a live salsa band.
Best Dish
Red snapper and conch meat.
Shopping
Punda is the main shopping area of Willemstad and the quaint pedestrian-only streets are reminiscent of a small European town. Most shops are within walking distance of each other and a wide selection of European clothing, French perfumes, Japanese electronics, Irish crystal, English china, Italian leathers, and Chinese embroidered linen tablecloths can be found at this international trade hub.
Best Buy
Curaçao liqueur.
Excursions
Snorkel or scuba dive in the Mushroom Forest.
Visit the Curaçao Sea Aquarium.
Check out Cas Abao Beach on Banda Abao.
See the Curaçao Ostrich & Game Farm.
Become our Curacao Travel Expert
We are looking for contributors for our Curacao travel guide. If you are a local, a regular traveller to Curacao or a travel professional with time to contribute and answer occasional forum questions, please contact us.