Regions
Ports of Call

---
Limassol Port of Call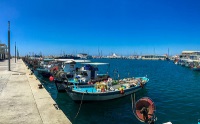 Limassol © Sergey Galyonkin
The second largest city on Cyprus, and one of the Mediterranean's largest ports, Limassol is an urban maze, hiding its many beautiful alleys between a labyrinth of plain new development and aqua coastline.
Several very popular historic attractions are easily reachable just outside Limassol, including Kolossi Castle and the ancient cities and archaeological sights of Curium and Amathus.
There are two ports in Limassol and most cruise ships berth at New Port, which is 2 miles (3km) from the city and on the Northwest coast of Akrotiri Bay, which has an expansive passenger facility with duty free shops, restaurants, banks and transportation staging areas.
---
Contact
Phone: 357 22817200
Email: cpa@cpa.gov.cy
www.cpa.gov.cy
A tourism office is located in the passenger terminal.
Transport
Metered taxis are available just outside the cruise passenger facility, and free shuttles into the city centre are provided by the cruise line. A bus line services the city but is confusing and not a good option for further attractions. Taking transport into town and walking is the best option, although hiring a car or motorbike for destinations further afield is a good idea.
Attractions
The most popular attractions inside the city include the mysterious Limassol Castle, and the surrounding old city area, full of bars and restaurants. Outside the city the wonderfully excavated ancient city of Kourion shows off its ancient attractions, including a now working amphitheatre, as well as baths and a marketplace. Although not as well maintained, the ruins of Amathus are also very impressive. The enormous Kolossi Castle offers a great opportunity to experience medieval architecture in its cavernous halls.
Restaurants
La Mer Fish Tavern - Seaside location with reliably great fish
Cuckoo's Nest - traditional Greek and Cypriot cuisine in downtown Limassol
The Golden Sun - family-friendly restaurant with a good selection of meat and grills
Best Dish
Meze platters
Shopping
Shops are scattered all over town but are more numerous in Agiou, Andreou and Anexartiatis streets. Tourist shops for souvenirs are best found around St Andrew's Street. There are many shopping complexes with high-end retail stores and designer boutiques. Shops generally close from 1pm to 3pm on weekdays.
Best Buy
Byzantium silver jewellery
Excursions
Explore the town of Pitsilia
Hike the Troodos Mountains
Taste wine at Omodhos
Become our Cyprus Travel Expert
We are looking for contributors for our Cyprus travel guide. If you are a local, a regular traveller to Cyprus or a travel professional with time to contribute and answer occasional forum questions, please contact us.