Introducing Democratic Republic Of The Congo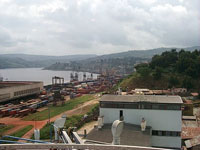 Matadi Port ©
Decades of civil war and corruption after the end of colonialism brought the central African Democratic Republic of Congo to its knees, economically, politically and socially, although the country has the potential of being the richest in Africa. This vast country (third largest on the continent) currently exists in a state of fragile peace after decades of civil war, still beset by serious outbreaks of violence. Despite the tensions, investors are keeping tabs on this battle-worn equatorial enclave, which has enormous mineral wealth, including copper and cobalt.
The capital, Kinshasa, is a transportation hub on the Congo River, one of Africa's main arteries, sited opposite Brazzaville, capital of the Republic of the Congo. The city is no backwater, despite the collapse of its economy due to political turmoil; it sports a university and several other important academic institutions, including a research centre for tropical medicine, some worthy historic buildings, monuments and museums.
To the north east, bordering Uganda's Rwenzori Mountains and the Volcanoes National Park in Rwanda, lies the Virunga National Park that was established in 1925 as Africa's first national park. It became well known for its mountain gorillas, although these are now extremely rare due to poaching and the ongoing civil war.
Visiting the DRC is, however, risky and recreational tourism is not advised. Businessmen, diplomats, aid workers and others with essential business are well catered for in some good hotels and restaurants, chiefly in Kinshasa's affluent Gombe district.
Become our Democratic Republic Of The Congo Travel Expert
We are looking for contributors for our Democratic Republic Of The Congo travel guide. If you are a local, a regular traveller to Democratic Republic Of The Congo or a travel professional with time to contribute and answer occasional forum questions, please contact us.