Cities
Ports of Call

---
Copenhagen Port of Call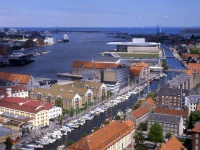 The coast of Denmark © josef.stuefer
Scandinavia's largest city and historic gateway to the Baltic Sea is a dense but well organized blend of cobblestone roads, historic buildings, and modern infrastructure encompassing museums, music, and cafés.
Of the many attractions, the most popular include the grand Royal Museum of Fine Arts and the beautiful and fun Tivoli Gardens amusement park. The Little Mermaid statue, near the pier, is the city's most recognizable woman.
Almost half a million passengers and 320 cruise ships a year berth at one of two cruise terminals in Copenhagen: Langelinie Pier and Freeport Terminal, both of which are near the city centre. A cruise passenger facility is available at Langelinie pier with a tourist information centre.
---
Contact
Tel: +45 3546 1111
www.cruisecopenhagen.com
per.schmidt@cmport.com
The tourist information centre is near the Langelinie Piere terminal.
Transport
Shuttles from the two piers to the city centre are available from the cruise line although taxis are also readily available. A water taxi from Langelinie pier goes to harbour destinations. Well run buses service both terminals and depart approximately every twenty minutes from Langelinie. City bicycles can be easily borrowed from near the piers.
Attractions
Strolling the historic Nyhavn streets is a popular activity, as is viewing the city's history and art at the National Museum, National Gallery and Royal Museum of Fine Art. Both Rosenburg Castle and Christiansborg Palace are exciting examples of historical architecture and royal history. After enough sightseeing, tourists find the city centre's Tivoli Gardens both a great theme park and relaxing garden setting.
Restaurants
Tivoli Gardens - Beautiful setting for both casual and fine dining.
Norma - Nordic styles waterfront with Scandinavian cuisine.
Café Sorgenfri - Great for a few drinks and smorrebrods.
Best Dish
smorgasbord
Shopping
Strolling the main streets and window shopping is the best means of shopping. The most popular shopping district includes the five pedestrian streets of Stroget although souvenirs can be found throughout the city. For well known retailers and high end fashion the department stores of Magasin and Illum make for luxurious browsing. The waterfront shopping mall also has a variety of shops.
Best Buy
Lego or Royal Copenhagen porcelain
Excursions
Visit Legoland Billund
Relive Hamlet in Kronborg Castle
Be a beach bum at North Zealand
Relax in Malmo
Pillage towns on a Viking tour
Become our Denmark Travel Expert
We are looking for contributors for our Denmark travel guide. If you are a local, a regular traveller to Denmark or a travel professional with time to contribute and answer occasional forum questions, please contact us.
iExplore designs made-to-order, privately-guided adventure tours to Denmark, Scandinavia and over 200 other world wonders. Come Back Different!
ADVERTISEMENT
---