Cities
Regions
Resorts

---

---
Ports of Call

---

---
Introducing Dominican Republic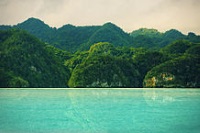 Los Haitises Park © Anton Bielousov
There are two sides to the Dominican Republic, just like there are two sides of the Caribbean island of Hispaniola, which the Dominican Republic shares with neighbouring Haiti. On one side, tourists languish in luxury inside the confines of the many resort hotels along the beautiful coastline, sipping cocktails under the palm trees and bathing in beautiful blue lagoons.
The other face of the Dominican Republic can be found along the country roads, among the sugar cane, coffee and cocoa bean fields, where people labour in the sun and men play dominoes outside tumble-down shacks.
For the local people, there are more than 10 million inhabitants of this well-populated part of Hispaniola, tourism is an important source of income, and the thousands of visitors who come to enjoy the resorts and to explore the Spanish Colonial legacy in this country "where America began", are warmly welcomed.
The South Coast contains some of the country's bigger cities and national parks. The capital, Santo Domingo, was the first Spanish settlement in the Americas. Christopher Columbus initiated the first European New World settlement here in 1496.
His legacy is preserved in the bricks and mortar of the historic old section of Santo Domingo. Other tourist spots in the Dominican Republic are the northern Amber Coast region around Puerta Plata, the beautiful Samaná Peninsula, and the resort communities of the east coast.
Here, stretches of pristine tropical beach have been bought and developed into all-inclusive resorts. However, those who explore off the beaten track will discover unspoilt tropical paradise in the Dominican Republic, and locals ready and willing to offer warm hospitality.
Become our Dominican Republic Travel Expert
We are looking for contributors for our Dominican Republic travel guide. If you are a local, a regular traveller to Dominican Republic or a travel professional with time to contribute and answer occasional forum questions, please contact us.