Cities
Regions
Ports of Call

---

---
Casa de Campo Port of Call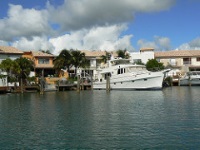 Casa de Campo © Davis
Passengers will find calling port at Casa de Campo unusual as the emphasis is on limited shore excursions to the nearby luxury resort rather than the nearby town La Romana or the beautiful landscape. The Luxury resort is especially famous for several attractions, the most well known being its championship golf courses, although non golf enthusiasts can enjoy Altos de Chavón, a replica of a 16th century Mediterranean village.
The cruise port is between the town of La Romana and the luxury resort of Casa de Campo. Taxis and shore excursion shuttles leave from the base of the dock where the cruises berth. There are very limited passenger amenities directly at the cruise port.
---
Contact
Tel: +1 855 877 3643
www.casadecampo.com.do
A staffed tourist information booth is located at the dock's end
Transport
Shuttles run to Casa de Campo, usually in cruise line organised shore excursions. Waiting taxis from the dock can be taken to either Casa de Campo or La Romana and the staffed information booth at the dock can arrange taxi help. La Romana is also within walking distance.
Attractions
By far the most famous attraction on Casa de Campo is 'Teeth of the Dog', a championship level golf course, one of the world's most well known. The 16th century replica village Altos de Chavón also attracts visitors, especially its large Greek amphitheatre. Also in Casa de Campo is The Marina, a yachting and shopping haven. There are several beautiful beaches near La Romana. A common complaint is that the full resort is rarely open to cruise passengers who instead must book single activities.
Restaurants
Minitas Beach Club - Fancy and high priced Caribbean dining
La Casita's - Seafood and Spanish cuisine at the Marina
Lago Grill - Great for breakfast near the golf course
Best Dish
La Bandera (rice, beans and goat)
Shopping
There are three main shopping areas at Casa de Campo. The main hotel area is fine for needed beach clothing but the more upscale shopping areas include Altos de Chavón and La Marina. Items are not found for a bargain here although many luxury items can be found.
Best Buy
Cigars
Excursions
Relax at Bayahibe Beach
Sail to Catalina Island
Visit the beautiful beaches on Saona Island
Stroll La Romana
Ride horses into the hills
Become our Dominican Republic Travel Expert
We are looking for contributors for our Dominican Republic travel guide. If you are a local, a regular traveller to Dominican Republic or a travel professional with time to contribute and answer occasional forum questions, please contact us.