Introducing East Timor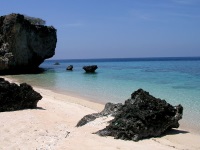 East Timor © Nick Hobgood
Charming, beautiful and full of smiles, East Timor may not be top of everyone's dream destination list, but it is certainly off the beaten track, offering visitors a taste of something completely different. With beautiful beaches, exotic forests and exciting mountain trekking, the coral reefs and colonial towns are drawing an increasing number of adventurous travellers each year.
Colonised by Portugal in the 16th century, East Timor declared independence in 1975, only to be invaded and occupied by Indonesia nine days later; it has been a bumpy ride on East Timor's road to independence. The tourism infrastructure is not highly developed but it seems East Timor is slowly getting there, and visitors are now able to enjoy a spot of snorkelling, diving, hiking and exploration round the exotic countryside.
One of East Timor's more famous landmarks is the Cristo Rei, a 100-foot (30m) statue of Jesus, believed to be the second tallest statue of its kind in the world, rivalled only by Rio de Janeiro's Christ the Redeemer. Beyond the capital of Dili lies a mysterious and intensely beautiful land where empty beaches lead into dense tropical forest and mountains reach down to the water's edge.
The best time to visit East Timor and experience its warm, clear seas dotted with tropical fish, manta rays, turtles and sharks is just after the wet season, from late April to July when the weather is warm and the diving is at its exquisite best.
Become our East Timor Travel Expert
We are looking for contributors for our East Timor travel guide. If you are a local, a regular traveller to East Timor or a travel professional with time to contribute and answer occasional forum questions, please contact us.