Cities
Regions
Introducing Ecuador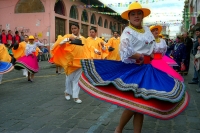 Ecuador © jpereira_net
Ecuador Travel Guide
Ecuador is the smallest country in the Andean Highlands. Despite its size, it is one of the world's most bio-diverse countries. It's crammed with an astounding variety of wildlife, birds, and vegetation, existing in contrasting climatic zones.
Within a short time, the traveller can experience dramatic changes in scenery, temperature, and altitude, journeying between Pacific Coast beaches, the sweltering rainforest, the capital city of Quito surrounded by ice-covered volcanoes, and the windswept highlands of the Andes Mountains.
The geographic environment has influenced the cultures and traditions of its people. Two mountain chains and over 30 volcanoes make up the Andean highlands, the country's backbone. Between the two chains lies the central valley, the Avenue of Volcanoes, at about 8,960 feet (2,800m) above sea level.
This valley, or sierra, is the heartland of cultural activity, punctuated by dozens of remote communities. It is also home to the bulk of the population. Larger towns like Saquisilí and Otavalo swell on market days, villagers coming to sell their produce and handiwork in a vibrant, colourful, and festive atmosphere.
Additionally, the sierra contains most of the old and historically important cities, including the aforementioned Quito. The country itself is beautiful, colonial architecture blending effortlessly with magnificent, panoramic scenery and a welcoming people.
One of the world's greatest treasures of natural history lies in the bewitching Galapagos Islands. Famed for its unique wildlife such as marine iguanas, giant tortoises, and colourful Sally Lightfoot crabs, the island chain is the highlight of any holiday in Ecuador.
Best time to visit Ecuador
The best time to visit Ecuador is in late spring (April and May) and early autumn (late August through September) when the humidity isn't quite so high. Ecuador's wet season runs from October to May, with the dry summer season from June to September.
The waters around the Galapagos get cool and choppy from around September. However, temperatures stay mild into early autumn. Ecuador's climate, which varies according to region, is fairly mild throughout the year, but travellers should note that during the high season (December to January and June to August) prices are noticeably higher and accommodation fills up quickly.
Read more on Ecuador's Climate and Weather.
Top things to see in Ecuador
-Hike Cotopaxi, one of the world's highest active volcanoes, located in a national park surrounded by beautiful forests.
-Walk around the quaint colonial town of Cuenca, founded in 1557.
-View Quito from the Pichincha Volcano by taking a ride on the Telerifico cable car.
-Explore El Mitad Del Mundo, a complex of shops and museums straddling the equator.
Read more on Ecuador Attractions.
Top things to do in Ecuador
-Have a drink and people-watch on one of the many plazas in Quito, such as Plaza San Francisco.
-Enjoy the warm, clear waters by going to one of the many surf or dive camps along the coast.
-Take a cruise to the Galapagos Islands and visit the Charles Darwin Research Station near Puerto Ayora.
-Visit the therapeutic hot springs of Banos.
Getting to Ecuador
There are few direct flights to Ecuador from the UK, but many indirect flights are available to airports in Quito, Cuenca, Guayaquil, San Cristobal, and the Galapagos Islands. There are direct flights from the US to Ecuador. Most flights to Ecuador land at Mariscal Sucre International Airport in Quito. Indirect flights may stop over in Costa Rica, Peru, Colombia or Panama.
Get more information on Ecuador Airports.
Read
The Red Book by Meaghan Delahunt and The Queen of Water by Laura Resau
Watch
Proof of Life (2000)
Drink
Canelazo, a warm, sweet and spicy alcoholic drink made with water, cinnamon sticks (canela), brown sugar, acid fruit juice such as naranjilla or lemon and aguardiente (fire water).
Listen
Pasillo, an extremely popular form of Latin music and the country's national genre. The Amor Fino, a type of ballad, is also a very popular genre.
What to buy
Colourful woven cloths, shawls, carpets, and hats.
What to pack
Swimsuits, surfing, snorkelling or diving gear, plenty of mosquito repellent, and hiking boots to climb Cotopaxi.
Did you know?
Ecuador used to be the northernmost part of the Inca kingdom.
A final word
The fascinating local culture and delicious food combined with pretty colonial buildings, warm seas, and beautiful beaches makes Ecuador an idyllic South American holiday destination.
Become our Ecuador Travel Expert
We are looking for contributors for our Ecuador travel guide. If you are a local, a regular traveller to Ecuador or a travel professional with time to contribute and answer occasional forum questions, please contact us.
iExplore designs made-to-order, privately-guided adventure tours to Ecuador, the Galapagos Islands and over 200 other world wonders. Come Back Different!
ADVERTISEMENT
---
Intrepid Travel, one of the world's leading suppliers of small group adventures focused on getting off the beaten track, interacting with the locals and having real life experiences throughout Ecuador.
ADVERTISEMENT
---