Introducing Equatorial Guinea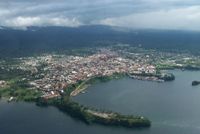 Malabo © Ipisking
The lush and lovely Equatorial Guinea consists of a mainland territory, Rio Muni, and five island territories within the Gulf of Guinea. Rio Muni, oddly enough, is not the epicentre of the country; it is the largest region but is 60 percent rainforest, constituting a conservation area respected among primate experts for its large variety of gorilla and monkey species. The real buzz of Equatorial Guinea is Bioko Island, which is situated closer to Cameroon than Rio Muni, north of the mainland, and which is home to the capital city, Malabo.
Bioko Island is a beautiful, volcanic isle and Malabo is a dilapidated but charming city with a prevalence of Spanish colonial architecture that belies the fact that you are in an African state. In fact, the official languages of Equatorial Guinea are Spanish and French, a further nod to the former colonists. What does, unfortunately, tip visitors off to the fact that they are in Africa is the level of abject poverty affecting the local population. While Bioko, Corisco and the other islands of Equatorial Guinea have been heavily invested in by oil companies drilling in the water of the gulf, this money has not made its way to the poor. Watchdogs such as Amnesty International have repeatedly denounced Equatorial Guinea as one of the worst human rights offenders in the world, and the dictatorial rule of Obiang has, over the last three decades, been one of the most corrupt and brutal Africa has seen.
So, while the marketplace of Malabo is lively and filled with curiosities and exquisitely wrought tapestry, tourists will have to take care not to be pick-pocketed or mugged while exploring the city. The country is poor but not violent and crime is mostly petty. Equatorial Guinea is a beautiful country and it rewards exploration for those brave enough to set out off the beaten track, but it is not a well-known tourist destination and travel through its rich jungles and islands is not risk-free. Officials make travel difficult by frequently demanding to see papers and expecting bribes, and foreigners have to endure a lot of corruption and rules and regulations which are liable to change often. Tourism infrastructure is almost non-existent and visitors should come prepared to travel rough. Those in search of an adventure will find stunning beaches and pristine rainforest as well as exciting wildlife if they manage to get beyond the bureaucracy.
Become our Equatorial Guinea Travel Expert
We are looking for contributors for our Equatorial Guinea travel guide. If you are a local, a regular traveller to Equatorial Guinea or a travel professional with time to contribute and answer occasional forum questions, please contact us.