Introducing Eritrea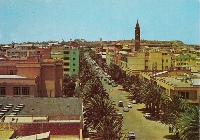 Asmara © ctsnow
Geographically Eritrea has two faces, as it is dissected in half by the Great Rift Valley. The western 'half' is fertile land while the east is a desert descending to the coastline. Eritrea sits squarely over the Danakil Depression of Eritrea, where three tectonic plates tug away from one another. And if the possibility of the ground pulling apart underneath you wasn't enough to complicate your movements on this land, getting around in Eritrea once there, is tricky. It has the world's most expensive fuel and even if you could afford a taxi or rental vehicle, many of the country's roads are defunct or closed. Instead, the only way to navigate the interior is by rail.
Still, Eritrea is not without its charm. With the Red Sea serving as its coastline, diving to see coral and majestic sea life is a rewarding experience and Eritrea's most popular tourist activity. The capital of Asmara hosts some of the most intact colonial (Italian) architecture in Africa, while to the south of Asmara there are pre-Aksumite civilisation sites such as Qohaito's Ruins, the ongoing excavation of which is constantly revealing new mysteries.
Unfortunately the wonder of Eritrea will probably remain buried until conflict with neighbouring Ethiopia is resolved. The current government stringently controls all travel, media, business and other enterprise, earning Eritrea the dubious accolade of being dubbed the 'North Korea of Africa'.
Become our Eritrea Travel Expert
We are looking for contributors for our Eritrea travel guide. If you are a local, a regular traveller to Eritrea or a travel professional with time to contribute and answer occasional forum questions, please contact us.