Regions
Introducing Ghana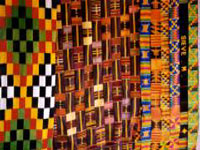 Kente cloth from the Ashanti region ©
Formerly a British colony known as the Gold Coast, Ghana was the first black African nation to achieve independence in 1957. It is a relatively small country on the west coast of Africa, situated between Togo and Côte d'Ivoire, and remains a somewhat unexplored tropical gem; an untapped destination that abounds in history, culture, wildlife and scenery, with a wide variety of tourist attractions. Throughout its 10 regions visitors will be greeted with the warm-hearted smiles of its welcoming people.
Nature has been extremely generous to Ghana with its national parks and reserves providing a sanctuary for the native flora and fauna; the grasslands of Mole National Park in the north are home to a variety of large animals, while birds and butterflies are particularly numerous in Ghana's forests. Rainforests such as that of Kakum National Park in the southern central region, with its canopy walkway and nature trails, provide a haven for eco-tourists. Miles of unspoilt beaches, waterfalls, rolling forested hills, rivers and lakes complete the portrait of a country that is a nature lover's delight.
The diverse ethnic groups of Ghana and the ancient traditions of its people have shaped one of the richest cultural environments in Africa and a holiday in Ghana can include wonderful traditional festivals, dancing and music, and a wide variety of arts and crafts. The traditional and cultural heartland of the country is the Ashanti region, home to the nation's dominant tribe, the Ashanti, who are most famous today for their craftwork and ancient artistry in fabrics, particularly the colourful kente cloth.
Ghana's vibrant capital city, Accra, is the gateway to the country and is located in the smallest, yet most populated region on the Gulf of Guinea. The modern city has excellent accommodation, restaurants and nightlife, colourful markets, and is a good base from which to explore the Atlantic coast west of Accra, which boasts many fine palm-fringed beaches, resorts, ancient forts, castles, and fascinating fishing villages. The forts and castles along the coastline date back to the 15th century and have an intriguing history of European occupation, fierce battles and slavery. The Cape Coast Castle, Fort St Jago and Elim Castle are recognised as UNESCO World Heritage Monuments.
Become our Ghana Travel Expert
We are looking for contributors for our Ghana travel guide. If you are a local, a regular traveller to Ghana or a travel professional with time to contribute and answer occasional forum questions, please contact us.
Specialists in eco, cultural and wildlife tours for the responsible tourist. Join us on an adventure to experience the real Ghana.
ADVERTISEMENT
---