Ports of Call

---
Gibraltar Port of Call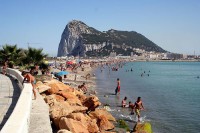 Gibraltar © Jon Rawlinson
The British Overseas Territory of Gibraltar is tiny, less than three square miles (7km sq) in size; however, its location at the southern tip of Europe has given it a historical importance disproportionate to its size, having been used as a strategic base in many wars going back to ancient Greece and Rome.
These days foreign invaders come on cruise ships rather than battleships, on cruises from both the Atlantic Ocean and the Mediterranean Sea. Visitors enjoy soaking up the blend of British and Spanish culture, sunning themselves on the beaches in Catalan Bay, and seeing famous landmarks like the iconic Pillars of Hercules.
Cruise ships in Gibraltar dock at the cruise terminal, which offers a cafeteria, shop, currency exchange office and tourist information office. There is a small passenger tax per person, but this is sometimes discounted or waived depending on the cruise line.
---
Contact
Gibraltar Port Authority: www.gibraltarport.com
Gibraltar Tourist Board: www.gibraltar.gov.uk/holiday.php

Transport
There are buses and taxis available to ferry cruise passengers to points of interest, although once in town most places are accessible on foot.
Attractions
No cruise to Gibraltar is complete without a cable car trip up to the top of The Rock. The nature reserve at the Upper Rock is home to the famous Barbary Macaques, mischievous apes with a penchant for stealing cameras and sunglasses. The Rock is also home to St Michael's Cave and the ruins of an old Moorish castle. Sun-worshippers can head to Catalan Bay, which offers popular beaches to soak up the sun on.
Restaurants
Michelangelo's Restaurant - American and Italian food served with a smile
Gauchos - all-you-can-eat Argentinean barbecue
Cafe Rojo - popular European restaurant in the heart of Main Street
Best Dish
freshly-caught fish
Shopping
Shopping in Gibraltar is centred around Main Street, where you'll find rows of shops selling souvenirs like stuffed Barbary Apes, and t-shirts, as well as discounted alcohol and tobacco. More unique buys are harder to find, but Lladro and Nao porcelain figurines are a popular choice. Many shops accept both Gibraltar Pounds and Euros.
Best Buy
embroidered tablecloths
Excursions
Visit the famous Barbary Apes in the Upper Rock nature reserve
Explore the siege tunnels from World War II
Learn about the Rock's history at the Gibraltar Museum
Dip your toes in at Europa Point, where the Atlantic meets the Mediterranean
Watch the changing of the guard at Convent and King's Chapel
Become our Gibraltar Travel Expert
We are looking for contributors for our Gibraltar travel guide. If you are a local, a regular traveller to Gibraltar or a travel professional with time to contribute and answer occasional forum questions, please contact us.