Cities
Regions

show more Regions
Resorts

---

---

---

---

---

show more Resorts
Introducing Greece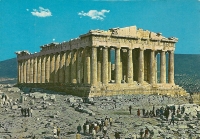 The Parthenon © Nathan Hughes Hamilton
Greece Travel Guide
Greece has captured the world's imagination with its ancient culture and fantastical myths. Visions of vengeful gods and goddesses, massive armies led by generals riding in chariots, and great philosophers discussing ground-breaking ideas dance in the heads of the millions of tourists who flock to the country each year to visit world-famous sites like the Parthenon in Athens, the Acropolis of Rhodes, the churches of Thessaloniki, and the Oracle of Delphi.
A holiday in Greece isn't all about the past, however, as the region's warm weather gives it an ideal climate for a holiday on the beach. Greek islands like Santorini, Crete, Mykonos and Corfu are popular cruise destinations in the Mediterranean, taking advantage of the roughly 200 days of sunshine each year for tourists to enjoy their pebbled beaches, seaside tavernas and lively nightlife.
Tourists can venture beyond the basic Greek salad to enjoy meze staples like saganaki (fried haloumi cheese), kleftiko (lamb slow-baked on the bone), and souvlaki (shaved pork wrapped in a pita). No holiday in Greece is complete without a taste of the local spirits, and the friendly and voluble locals are always ready to welcome visitors for an unforgettable experience in the 'birthplace of civilisation'.
Best time to visit Greece
The most popular time to visit Greece is the summer (June to August) when the weather is beautiful and sun is guaranteed. Late spring (April and May) and early autumn (late August through September) are also lovely times to holiday in Greece, when the crowds are thinner and the sun is less merciless. Read more on Greece's Climate and Weather.
What to see in Greece
-Spend a few days marvelling at the ruins of the Parthenon and the Acropolis in Athens, and wandering through the archaeological museums nearby.
-Visit the site of the first Olympic Games in 776 BC, where there are still ruins of arenas, gymnasiums and changing rooms.
-See the tomb of King Leonidas in Sparta, along with other relics of the famous warriors of the Peloponnese Peninsula.
-Explore the Cave of the Apocalypse on Patmos, where the Apostle John is said to have written the Book of Revelation. Read more about Greece Attractions.
What to do in Greece
-Take a cruise to Crete and lounge on the beaches in Hania, Heraklion, and Agios Nikolaos.
-Follow the trail of Homer's Odyssey with a visit to Ithaca, and enjoy the lively village of Vathy.
-Let loose in the trendy tavernas and nightclubs of Mykonos.
-Watch a stunning sunset off the coast of Santorini.
Holiday resorts in Greece
Greece has many popular resorts for sun-seekers looking for the perfect beach holiday. Each resort has its own character, varying from lively nightlife, to laid-back and secluded; from single's heaven to family friendly holiday. Find your perfect Greece holiday resort here.
Getting to Greece
There are direct cheap flights to Athens and Rhodes from many UK airports. Direct flights to Greece from the US are harder to find, but there are many connecting options. Get more information on Greece Airports.
Read
Zorba the Greek by Nikos Kazantzakis, The Odyssey by Homer, Captain Corelli's Mandolin by Louis de Bernières and The Magus by John Fowles.
Watch
Shirley Valentine (1989), Agora (2009), and My Life in Ruins (2009).
Drink
Ouzo
What to buy
Greek wine and products made from olive oil or olive wood. Ouzo and Metaxxa brandy. Remember that it is illegal to take historical artefacts out of Greece!
What to pack
A swimming costume for the islands, sturdy hiking shoes for the ruins, and plenty of sunblock no matter where you go.
What's on in Greece
The capital is the hub for Greek festivities: the best in Greek music and culture is showcased each August at the Athens Festival; the Lycabettus Hill Festival hosts contemporary music and dance all summer long in Athens; and the traditional Greek Dance Festival is held in Athens each year for a weekend in July. More information on Events in Greece.
Did you know?
-Greece has more archaeological museums than any other country in the world.
-More than 16 million tourists visit Greece annually - more than the country's whole population.
-Nearly 80 percent of Greece is mountainous.
A final word
Sunny beaches and sparkling seas collide with the rich history of a 3,000-year-old civilisation to create the ultimate holiday destination.
Become our Greece Travel Expert
We are looking for contributors for our Greece travel guide. If you are a local, a regular traveller to Greece or a travel professional with time to contribute and answer occasional forum questions, please contact us.