Cities
Regions

show more Regions
Resorts

---

---

---

---

---

show more Resorts
Crete (Heraklion) Port of Call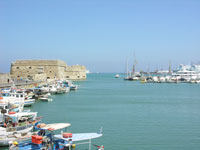 Crete Harbour © Phileole
The Greek island of Crete and its port of Heraklion boast a rich and captivating cultural history. Heraklion is brimming with interesting sights and makes a wonderful port of call for any cruise passengers passing through.
Key attractions include Fountain Square, the Tomb of Nikos Kazantzakis, the Historical Museum of Crete, the Archaeological Museum and the Knossos Palace, one of the world's most important historical sites featuring intricate ruins dating back nearly 4,000 years and linked to the mythical Minotaur and King Minos.
Cruise ships dock at Heraklion harbour which is located very close to the heart of the city of Heraklion, with most tourist attractions only a short walk away.
---
Contact
Greek National Tourist Organisation, Heraklion
Tel: 2810 228203
www.greeka.com/crete/crete-tourism.htm
Transport
Heraklion is easy to navigate by foot and most of the city's attractions are centred around a small area. Taxis, coloured grey, can be easily hailed from the docks and throughout the city. Travellers should always agree on a fare before departure. Rental car agencies abound in the centre of town and can be found near Avgusto Street in Heraklion.
Attractions
Cruise passengers at port in Heraklion shouldn't miss the world-famous Knossos Palace, the Archaeological Museum, the Historical Museum of Crete and, for lovers of the book, the Tomb of Nikos Kazantzakis, author of Zorba the Greek. Crete's beaches are also a must and with so many choices sun lovers will find it hard to settle on just one beach; one of the most popular is the longest beach in Crete, Ammoudara.
Restaurants
Pantheon - family friendly restaurant serving affordable local fare
Kyriakos - one of the finest restaurants in town
Ippocampus - popular eatery with locals and tourists serving hearty local fare
Best Dish
Dolmades and fried zucchini slices
Shopping
Shoppers should head straight to Market Street in Heraklion, where hundreds of tiny stores and stalls sell just about everything from fresh fruits and vegetables to jewellery and local crafts. Haggling is accepted but shoppers shouldn't expect major discounts or price reductions.
Best Buy
Tsikoudia (local grape brandy), jewellery bearing the Phaestos Disc
Excursions
Enjoy watersports such as waterskiing and wind surfing
Laze on secluded beaches, such as Paliokastro
Visit the Minoan site of Phaistos
Hike to the Samaria Gorge in the White Mountains in western Crete
Marvel at the remains of Gortyna
Become our Greece Travel Expert
We are looking for contributors for our Greece travel guide. If you are a local, a regular traveller to Greece or a travel professional with time to contribute and answer occasional forum questions, please contact us.