Introducing Guadeloupe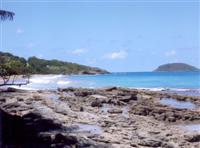 Coastal scenery, Guadeloupe © J Armand
The islands of Guadeloupe are radiant gems of the Caribbean, offering travellers a unique combination of Creole culture, incredible beaches, and simply fantastic French food.
Guadeloupe is shaped rather like a butterfly, with Basse-Terre and Grand Terre as each of its wings. Better developed Grand Terre has exceptional beach towns and plenty of fun nightlife along its shores.
First discovered by Columbus in 1493, the islands were known to the local Caribs as Karukera: 'the islands of beautiful waters'. French settlers arrived in the 17th century bringing with them disease - which wiped out the indigenous Caribs - and slaves to work the sugar plantations that were to be source of the islands' wealth for the next 200 years. In the 20th century Guadeloupe become an overseas department of France, enjoying French protection and economic support.
Guadeloupe is less well known than Antigua, its neighbour to the north, so it enjoys a somewhat laid-back atmosphere and less developed infrastructure by comparison. It is, however, very modern with mostly high-end tourist facilities and excellent health care.
The beaches are quite magnificent and remain the main draw card for the steady stream of tourists, the majority of whom are French. However, somewhat unusually for a Caribbean island, there are many worthwhile attractions inland too. Tropical forests abound, especially around the base of Mt Soufriere, a dormant volcano. Visitors can also find the Caribbean's highest waterfall on Basse-Terre. The diving is excellent, rated by Jacques Cousteau as one of the top 10 diving spots in the world.
Getting around the islands is a breeze, with a decent public bus network and plenty of bicycle rental spots presenting better options than the rather expensive taxis.
Become our Guadeloupe Travel Expert
We are looking for contributors for our Guadeloupe travel guide. If you are a local, a regular traveller to Guadeloupe or a travel professional with time to contribute and answer occasional forum questions, please contact us.