Introducing Haiti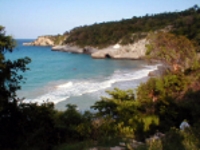 Haiti Overview © Ken Bosma
Some of the first things you notice as you descend into Port-au-Prince, are the mountains, hills, and deep valleys that make up the striking Haitian landscape. Haiti shares the island of Hispaniola with the Dominican Republic, but is distinct in many respects. The overwhelming majority of Haitians are of Afro-Caribbean ancestry, while the Dominican Republic is far more diverse demographically. Haitians have developed a number of unique cultural and linguistic trends, highly influenced by the nation's African heritage - some even say Haiti is really a West African country located in the Caribbean.
Once one of the richest French colonies, known as 'the pearl of the Caribbean', present day Haiti is sadly beset by widespread poverty, crime and civil disturbance. Suffering from numerous dictatorships, deforestation, the plunder of natural resources, and years of unabated corruption, many of Haiti's citizens live hand to mouth.
A catastrophic earthquake struck Haiti in January 2010, killing nearly 300,000 people and devastating local infrastructure. It destroyed many major landmarks in Port-au-Prince, including the Presidential Palace, Port-au-Prince Cathedral, and the National Assembly building. Since the devastating earthquake, hospitals, communication systems, and transport facilities remain inadequate even though years have passed.
The fact that dozens of sleek cruise liners still visit a corner of Haiti is a beacon of hope for future tourism. The glittering white liners head out from Miami, to deliver passengers to the cordoned off port of Labadee, adjacent to Haiti's colourful city of Cap-Haitien, on a bay on the northern coast. Here visitors are safe to shop for souvenirs, sample local cuisine and generally enjoy themselves on Haiti's lovely coastline. Cap-Haitien is, arguably, preferable to Port-au-Princeas a tourist destination because it suffered little damage in 2010.
Most governments discourage travel to Haiti but intrepid travellers intent on visiting will find surviving natural beauty and many exciting volunteer opportunities. Foreign aid and local ingenuity are slowly but surely improving conditions in Haiti, but unless travellers are on a cruise or as part of a volunteer programme exploring the country can be difficult. Visitors are often surprised by Haitians' friendly and hospitable nature, the fruits of fortitude through years of natural and man-made strife.
Become our Haiti Travel Expert
We are looking for contributors for our Haiti travel guide. If you are a local, a regular traveller to Haiti or a travel professional with time to contribute and answer occasional forum questions, please contact us.