Introducing Haiti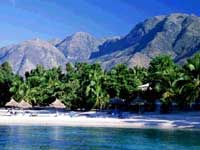 Haiti beach © Photo Atlas
Sad to say that when Christopher Columbus first stumbled across the island of Hispaniola in 1492 he little realised that it would become divided into two distinct Republics, with half of its lush landscape headed for criminal and political strife. The Republic of Haiti, once known as 'the pearl of the Caribbean', shares this island with the Dominican Republic, but it seems the two countries are worlds apart. One is a tourism magnet, the other largely a pariah where only the brave set foot.
Haiti is a fascinating country, its people friendly and energetic, but a combination of crime, civil disturbance and a mysterious voodoo religion have left most of it high and dry on the world tourism map. It was one of France's richest colonies, but today Haiti languishes as one of the world's poorest nations, its politics descended into chaos, its natural resources plundered, and corruption and crime rife.
Haiti was struck by a catastrophic earthquake in January 2010 that killed nearly 300,000 people and devastated local infrastructure. Many major landmarks in Port-au-Prince were destroyed, including the Presidential Palace, Port-au-Prince Cathedral, and the National Assembly building. Local infrastructure was all but destroyed, and hospitals, communication systems, and transport are basically non-existent. Tourism is discouraged, but intrepid travellers intent on visiting will find many volunteer opportunities in the embattled country.
The fact that dozens of sleek cruise liners still visit a corner of Haiti is proof that there is light in the darkness. The glittering white liners head out from Miami, USA, to disgorge passengers on day visits to the cordoned off port of Labadee, adjacent to Haiti's colourful city of Cap-Haitien, on a bay on the northern coast. Here visitors are assured of their safety as they shop for souvenirs, sample local cuisine and generally enjoy themselves.
Become our Haiti Travel Expert
We are looking for contributors for our Haiti travel guide. If you are a local, a regular traveller to Haiti or a travel professional with time to contribute and answer occasional forum questions, please contact us.