Regions
Introducing Iran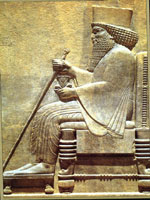 Stonecarving from Persepolis ©
Brimming with ancient cities, ruins, and magnificent mosques and museums to explore, Iran may not appeal to the typical traveller. But for culture seekers it has over 5,000 years of history and offers some of the world's ancient wonders, as a former part of the Persian Empire. Originally called Persia, Iran was one of the first countries to be occupied by the early Islamic armies that emerged from Arabia in the seventh century.
Although tourism is on the rise, it is still not generally considered to be safe to travel to Iran. Iran and the West have had a rocky relationship for many years and most people's perception of the country and its people is based on what they see in the media. Iran's negative image is largely due to its governmental policies, but what people tend to overlook is the beguiling country and a sympathetic people that lies behind this stern façade. Iran was the only country in the Middle East whose citizens held a spontaneous vigil for the 9/11 victims. However, anti-Western sentiment is high in some areas, and foreign tourists are often detained.
This culturally-rich country has something to offer everyone with plenty of sightseeing choices, wonderful shopping and exciting cuisine. With some of the most repressive laws for women, Iran is not the ideal honeymoon destination. However, for the more adventurous, Iran offers trekking, rock climbing and a few ski resorts all at affordable prices. The mountains bordering the Caspian Sea are covered in deciduous forest, and the brown forest soils found along the coasts of the Caspian Sea and the Persian Gulf are used extensively for farming. Iran has extremely rich mineral resources, especially petroleum and natural gas.
Become our Iran Travel Expert
We are looking for contributors for our Iran travel guide. If you are a local, a regular traveller to Iran or a travel professional with time to contribute and answer occasional forum questions, please contact us.
Intrepid Travel is one of the world's leading suppliers of small group adventures focused on getting off the beaten track and having real life experiences in Iran.

ADVERTISEMENT
---