Regions

show more Regions
Resorts

---
Ski Resorts

---

---
Ports of Call

---

---

---
Venice Port of Call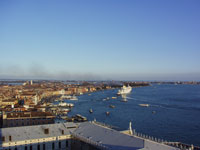 Italy, the best of both worlds © PhotoLab XL
The romantic and picturesque city of Venice is a favourite port for most cruise passengers on a Mediterranean cruise itinerary. With its gondola-lined canals, fine cuisine, pokey cobblestone streets and ancient history, Venice attracts over 700,000 cruise passengers every year.
Key attractions include the Piazza San Marco, the Chiesa di Santa Maria Gloriosa dei Frari and the 17th-century Basilica di Santa Maria della Salute and the Gallerie dell' Accademia.
Cruise ships dock at Venice's main port, the Terminal Venezia Passeggeri's Marittima basin, which handles the largest ships and is located near the 4-km causeway linking the historic city with the mainland. The San Basilio terminal in the Giudecca Canal handles smaller ships.
---
Contact
Tourist Board of Venice
Tel: +39 041 5298711
www.turismovenezia.it

Transport
Most cruise ships provide complimentary water shuttles to San Marco Square, the centre of tourism in Venice. The rest of the city is ideal to explore by foot. A bus service runs from the port to Piazzale Roma where water taxis are available. Water taxis can also be hired from the port at a more expensive fare. The vaporetti (water buses running every 15 minutes) cost between €3.50 and €5 euros per ride, depending on the destination. A one-day Venice card is good for those planning on doing a lot of commuting. There are no rental cars in Venice as there are no cars.
Attractions
Steeped in history, there is no shortage of attractions for visitors to enjoy in Venice. Visit the 10th-century Bell Tower, the Piazza San Marco, art galleries such as the Gallerie dell' Accademia and the Peggy Guggenheim Collection, and the Grand Canal. The numerous cathedrals and churches are also worth visiting, such as the Chiesa di Santa Maria Gloriosa dei Frari and the 17th-century Basilica di Santa Maria della Salute. The city is compact enough for many of these attractions to be seen on a single day trip from the cruise ship.
Restaurants
Ristorante Quadri - popular eatery serving international cuisine overlooking San Marco Sqaure.
Trattoria alla Rivetta - seafood restaurant popular with locals
Al Covo - trendy tourist-friendly restaurant serving Venetian cuisine
Best Dish
Venetian-style seafood pasta
Shopping
The best shopping areas are located just off San Marco Square, while most of the designer boutiques can be found in Accademia. Tourist shops and other boutiques can be found in the Rialto, which is the commercial core of Venice. Visit Venetia Studium on San Marco for fine velvets and silks while all the fashionable shops are located on or off the main drag between the train station and St Mark's Square.
Best Buy
Glass jewellery, chandeliers or tableware
Excursions
Watch glass making on the island of Murano
Take a gondola ride
Visit the island village of Burano
Visit Guidecca
Visit the nearby city of Verona
Become our Italy Travel Expert
We are looking for contributors for our Italy travel guide. If you are a local, a regular traveller to Italy or a travel professional with time to contribute and answer occasional forum questions, please contact us.
iExplore designs made-to-order, privately-guided adventure tours to Italy and over 200 other world wonders. Come Back Different!
ADVERTISEMENT
---