Regions
Ports of Call

---

---
Montego Bay Port of Call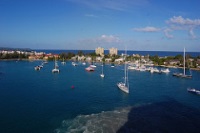 Montego Bay © Jeremy T. Hetzel
Montego Bay or 'Mo Bay' is the second largest city in Jamaica and its most popular tourist destination. It's abuzz with shopping centres, a variety of inland tourist attractions and beach-side water activities set against Georgian colonial architecture. Montego Bay offers a great variety of attractions and there are many worthwhile daytrips and excursions out of the city.
The most popular sights are a choice of championship golf courses, the haunted and eerie Rose Hall, and one of the best beaches on Jamaica, the Doctor's Cave Beach, with its celebrated crystal clear waters. The 'Hip Strip' is the most popular street for shopping and cocktails and is often the first stop for cruise passengers wanting to investigate the city.
Most cruise ships berth at Montego Freeport Terminal which can accommodate four cruise liners at once. The docks have five berths, two of which are used exclusively for cruise liners and another two used for both cargo and cruise ships, giving the area a bit of an industrial feel. There is a cruise terminal building used exclusively by passengers.
---
Contact
There is a tourist office inside the Montego Freeport Terminal building.
Transport
There are many taxis that wait just outside the Montego Freeport Terminal building. JUTA taxis come quite highly recommended. Mini buses are also common and pick up anyone standing by the side of the road when they pass.
Attractions
The Downtown Mo Bay area hosts markets for all kinds of shopping. Doctors Cave Beach and Rose Hall beach club are the most popular beach locations with mineral-rich clear water and every possible kind of water activity. Watersports are also available in Montego Bay Marine Park. Inland are five championship golf courses and great jungle tours through the mountains. Other popular attractions include the supposedly haunted Rose Hall and the Bob Marley Experience in Half Moon Shopping Village.
Restaurants
Margaritaville - An active beach-side sports bar with western food.
Pier One - Lovely seafood restaurant on the pier serving both Jamaican and international cuisine.
Sugar Mill Restaurant - Some Jamaican cuisine specialties in a formal setting.
Best Dish
Jerky
Shopping
Both Half Moon Shopping Centre and the City Centre have duty-free shops selling luxury items in Montego Bay. Multiple craft markets can also be found in downtown Mo Bay, selling an eclectic mix of goods, but expect to bargain hard.
Best Buy
Rum and coffee
Excursions
Visit Croydon in the Mountains
Take a Jamaica Swamp Safari
Do the Caliche Rainforest and Canyon White Water Rafting tours
Explore Falmouth town
Our Travel Expert
Shenita has travelled extensively and has visited more than 40 percent of the Caribbean. Jamaica, particularly Negril, is one of her favourite destinations: her home away from home! She tries to visit at least once a year.
>Read Shenita's tips on Jamaica
>Ask Shenita a question
---
Become our Jamaica Travel Expert
We are looking for contributors for our Jamaica travel guide. If you are a local, a regular traveller to Jamaica or a travel professional with time to contribute and answer occasional forum questions, please contact us.
---