Cities
Ports of Call

---

---
Ocho Rios Port of Call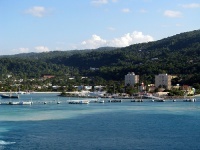 Sandy beaches at Ocho Rios © Paul Micallef
On Jamaica's north coast, and the country's most popular cruise destination, Ocho Rios is a modern resort and cruise liner playground surrounded by breathtaking tropical mountain and beach scenery.
The best and most popular sights just outside the city include the Dunn's River Falls, a series of waterfalls which empty out into the Caribbean Sea, and nearby Dolphin Cove, where dolphins swim with visitors in a natural setting.
Cruise ships either dock at Ocho Rios Bay cruise terminal located in the central part of town, or Reynolds Pier. When these are full, cruise liners anchor in the harbour and tender passengers into town. The cruise terminals are free of vendors and taxi solicitors.
---
Contact
Tel: +876 922 0290
Email: paj@portjam.com
A tourism office is located in the cruise ship terminal.
Transport
Inside the cruise terminal visitors can arrange for taxi pick up or take a shuttle (Tel: 974-2292). Outside the terminal, passengers can regularly find waiting taxi drivers. JUTA taxies are registered by the government and recommended. There are no buses departing from the cruise terminals although they are available from in town.
Attractions
In the city, shopping centres such as Island Village are part museum, like the Reggae Xplosion, and recreation area but the best attractions are in the nearby natural scenery. Dunn's River Falls and Dolphin Cove are the most popular but rainforest preserve Fern Gully is also a rare sight. Nearby beaches are resort owned and operated which offers a reprieve from the aggressive vendors in the rest of the town. There are also some top golf courses that welcome visitors.
Restaurants
BiBiBips - Caribbean cuisine on an open-air veranda with live reggae music
The Ocho Rios Jerk Center - Very casual open air restaurant centred around all things jerk.
Evita's - A Celebrity favourite with hilltop views and Italian food.
Best Dish
Jerked meat
Shopping
With six different shopping markets there is one around every corner. There are items ranging from duty free luxury goods best found in the port shops to local crafts which can be found in the several craft markets. Prices are usually highly inflated although tough bargaining is expected.
Best Buy
Coffee, rum, jerked meat
Excursions
Visit Chukka Cove
Tube the White River
Pay respects at the Bob Marley Mausoleum
See the Green Grotto Caves
Become our Jamaica Travel Expert
We are looking for contributors for our Jamaica travel guide. If you are a local, a regular traveller to Jamaica or a travel professional with time to contribute and answer occasional forum questions, please contact us.
ADVERTISEMENT
---