Regions
Ski Resorts

---

---

---
Nagasaki Port of Call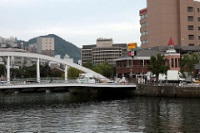 Port of Nagasaki © Norio Nakayama
Once a vibrant port city and Japan's only real link to the outside world, Nagasaki has a multicultural past with strong influences from Chinese and European culture that can be spotted in its architecture and food, even today. While it failed to obliterate that vibrancy, the destruction wrought on Nagasaki by the Atomic Bomb dropped in World War II has all but overshadowed it for the last seventy years.
Nagasaki, however, has worked hard to rebuild itself and today is an attractive and very popular port of call for cruises in Japan. Pretty parks and bustling markets are set in a scenic location between the busy energy of the harbour and the serenity of the mountains behind. Cruise ships in Nagasaki dock at Matsugae Pier, which is conveniently located near the city centre.
---
Contact
Port of Nagasaki
www.doboku.pref.nagasaki.jp (Japanese only)
Transport
Matsugae Pier is located within a 20-minute walk of most of the popular attractions in Nagasaki. For those needing a lift, the city's tram service is quick and efficient and taxis are also plentiful and relatively cheap.
Attractions
Nagasaki's attractions reflect its long history as a multicultural port, with museums to Chinese culture and former Western trading posts available to tour. Nagasaki's tragic history also factors into its most prominent attractions, including the Atomic Bomb Museum and the Oka Masaharu Memorial Nagasaki Peace Museum. Those looking for a trip out of the city will enjoy hiking the scenic area around Mount Inasa.
Restaurants
Otsuru - tasty noodle dishes at reasonable prices
Kagetsu - traditional Japanese food served in a former Geisha house
Tia - organic restaurant with good vegetarian options
Best Dish
Chawan mushi (savoury steamed egg custard)
Shopping
While Nagasaki isn't particularly known for its shopping, there are some good shopping malls, including Youme Saito near Dejima Wharf and AMU Plaza at the Nagasaki station tram stop, where bargains can be found.
Best Buy
Printed cotton and silk
Excursions
Visit the ghost town on Gunkanjima Island.
Watch the birds at the Nagasaki Penguin Aquarium.
Hike on Mount Inasa.
Learn about the city at the Nagasaki Museum of History and Culture.
Visit the Confucius Shrine and Historical Museum of China.
Our Travel Expert
Carey Finn Hails from Cape Town, lives in Tokyo (until further notice). A writer type with a love for languages, tea and cherry blossom trees, she headed to Japan to teach English "for a year or two", and for some reason is still there five years later. After spending some time in laid-back Osaka, she moved up to the crazy capital that is Tokyo, where she tries to hold onto as much of her sanity, and yen, as possible. You can find her cheapo travel advice at
www.tokyocheapo.com
, where she helps people make the most of the city on a shoestring budget.
>Read Carey's tips on Japan
>Ask Carey a question
---
Become our Japan Travel Expert
We are looking for contributors for our Japan travel guide. If you are a local, a regular traveller to Japan or a travel professional with time to contribute and answer occasional forum questions, please contact us.
---