Introducing Kazakhstan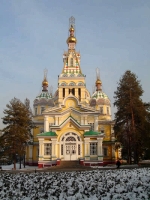 Zenkov Cathedral, Almaty © Paul Bartlett
Kazakhstan is the ninth largest country in the world, with a landmass four times the size of France. Although little visited by outsiders, it is a country with a rich historical and cultural past, and a wonderfully diverse ethnic make-up. Bordered by Russia, China, Kyrgyzstan, Uzbekistan and Turkmenistan, Kazakhstan has become home to many nations and is known for its friendly and hospitable people.
Kazakhstan was formerly a Soviet Republic, but gained independence in 1991 after the dissolution of the Soviet Union. It is a country of immense and diverse natural beauty ranging from the arid, treeless steppes of the centre to the snow capped peaks and glaciers of the Tian Shan mountain range, to the Almaty area, with its canyons, turquoise lakes and alpine meadows.
Rich in natural resources such as oil, natural gas and minerals, Kazakhstan is a country of huge economic potential. Although there is still widespread poverty in the country, and unemployment and inflation are rife, oil development has brought rapid economic growth and the country is already a significant oil exporter.
Astana, declared a world city by UNESCO in 1999, is the capital of Kazakhstan and is one of the main commerce centres with all government organisations and foreign businesses located there. Leafy Almaty, situated in the fertile fruit-producing region in the southeast is the former capital of Kazakhstan and is the largest city in the country. Famed for its beautiful architecture, grand ballet and opera houses, public sculptures and market stalls, Almaty is the cultural centre of Kazakhstan and well worth a visit.
Other sights and activities in Kazakhstan include skiing, visiting the Baikonur Cosmodrome, the prominent spaceport launch site, bird watching in Korgalzhyn and visiting one of the country's striking nature reserves where bears, ibex and raptors can be observed.
Become our Kazakhstan Travel Expert
We are looking for contributors for our Kazakhstan travel guide. If you are a local, a regular traveller to Kazakhstan or a travel professional with time to contribute and answer occasional forum questions, please contact us.
Intrepid Travel is one of the world's leading suppliers of small group adventures focused on getting off the beaten track and having real life experiences in Kazakhstan.

ADVERTISEMENT
---