Introducing Kosovo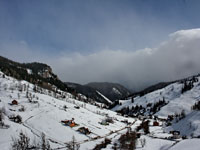 Brezovica © Shkumbin Saneja
The once war-torn nation of Kosovo is landlocked and bordered by Central Serbia, Macedonia, Albania and Montenegro. It is also surrounded by serene and beautiful mountains and is home to Ottoman mosques, monasteries, rolling green vineyards and KLA war memorials. Kosovo offers a truly unexpected, yet wonderfully diverse, holiday for those who visit.
Kosovo is a former province of neighbouring Serbia, but after a long and violent dispute, which led to the disintegration of Yugoslavia, Kosovo declared its independence in February 2008 and is widely accorded recognition by international states. With the Serb minorities located in the north of the country, Kosovo is a largely Albanian speaking and Muslim nation, although a surprisingly large amount of English is spoken.
Apart from the political and historical situation of the country, which has little effect on foreigners visiting the land, the Sar Mountains National Park is a key attraction and a must for anyone who loves the outdoors; animals such as the lynx, bear, wolf and chamois can be spotted. The ski resort of Brezovica in the Sar Mountains is also a popular attraction owing to its incredible slopes and favourable year-round climate, both of which make it an ideal ski holiday destination.
The capital city of Prishtina has a growing number of shops, bars and restaurants where tourists can indulge in a bit of local fare, heavily influenced by Turkish and Albanian flavours. Visitors will also find themselves becoming coffee connoisseurs, as coffee shops abound in this flourishing city.
Become our Kosovo Travel Expert
We are looking for contributors for our Kosovo travel guide. If you are a local, a regular traveller to Kosovo or a travel professional with time to contribute and answer occasional forum questions, please contact us.