Cities
Introducing Lebanon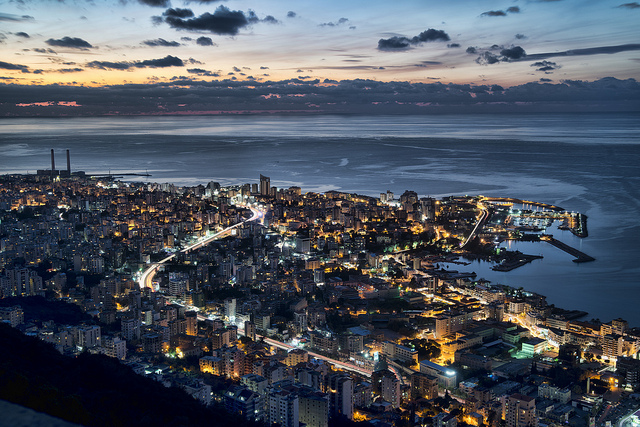 A view from Harissa © Ahmad Moussaoui
Once the seat of Phoenician and Roman occupancy, Lebanon has long been a melting pot of major world cultures and civilisations. The pre-Roman historic site of Baalbek best shows off the region's significant histories.
Indeed, the country is famous for being home to the largest and best-preserved Roman ruins in the world. In the coastal cities of Sidon and Byblos (Saida and Jbail in Arabic respectively), tourists even have the rare opportunity to snorkel amongst submerged Phoenician ruins.
Sometimes called 'Paris of the Middle East', Beirut is a trendy cosmopolitan city, where a variety of languages, nationalities, and religions transcend social barriers. Tragically and ironically, Beirut suffered a twin suicide bombing attack in November 2015, a day before the Paris attacks.
Despite devastating terrorist attacks, the city's resilient character continues to embody multiculturalism. Modern life plays out in the midst of ancient buildings, where churches and mosques sit adjacent to one another, and where foreigners and locals still mix easily in the streets.
The highlight of Lebanon and capital Beirut is the constant reminder of the country's longstanding role in world history. Lying at the junction of Asia, Africa, and Europe on the Mediterranean Sea, Lebanon's cities and harbours formed part of a global network of trade ports during Roman times.
The Beqaa Valley, known in the 1st century BC as the 'granary of Rome', is still the country's main agricultural region, and one of the leading wine-producing areas in the world. Lebanon has a remarkable natural landscape, especially when one considers how much desert surrounds it.
Each region varies in topography and climate. However, because Lebanon is a small country (about the size of Cyprus), daytrips to historic coastal towns and lovely mountain villages are easily made from Beirut.
From 1975 until the early 1990s, Lebanon endured a bloody civil war, which deeply scarred the country and its inhabitants. But some reconciliatory efforts towards rebuilding the nation have created a burgeoning atmosphere of open-mindedness and tolerance.
Although it still features on consular warning lists, Lebanon remains a popular travel destination. As long as travellers remain vigilant and aware of the socio-political situation at any given time, they should enjoy a safe and pleasant passage through the biblical 'Land of the Cedars'.
But the ancient cities, ski resorts, impressive architecture, and striking landscapes of Lebanon are just the tip of the iceberg. There's wonderful food in Lebanon, along with internationally-renowned wineries, incredible shopping districts, red-hot nightlife, and skilled artisans.
Become our Lebanon Travel Expert
We are looking for contributors for our Lebanon travel guide. If you are a local, a regular traveller to Lebanon or a travel professional with time to contribute and answer occasional forum questions, please contact us.