Cities
Introducing Lithuania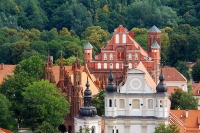 Vilnius Old Town © Sarunas Burdulis
The Republic of Lithuania, on the east coast of the Baltic Sea, boldly became the first of the Soviet republics to declare its independence in 1990. With a restructured economy it joined the EU in the spring of 2004, and the gates of this fascinating ancient country are now wide open for tourists and pleasure-seekers.
Relatively small, with only 62 miles (100km) of Baltic coastline, and hemmed in by Latvia, Belarus, Poland and part of the Russian Federation, Lithuania has a big heart and a wide variety of offerings for visitors, including around 2,500 lakes, 18 sizeable meandering rivers, and forests covering a third of its territory. The country can also boast of being smack in the centre of Europe: travellers can stand in the official centre of the continent at a now popular tourist attraction 15 miles (24km) northwest of the capital, Vilnius.
Vilnius itself is an atmospheric and ancient city, founded in 1323, with a beautiful old quarter that has been declared a UNESCO World Heritage Site. Just a few miles from Vilnius lies Trakai, capital of Lithuania in the Middle Ages, on the shore of the scenic Lake Galve, and a little farther west visitors can revel in the peaceful Birstonas mineral water spa resort. Lithuania's second largest city, Kaunas, is a cultural centre boasting numerous museums and a number of renowned theatres among its attractions. On its Baltic coastline, Lithuania lures travellers with pretty seaside resorts such as Palanga, with unspoilt white sandy beaches backed by pine forests.
An increasing number of travellers are savouring the delights of this re-discovered Baltic State, which is easily accessible from the main centres of Europe by air and road, and whose people are ready, willing and proud to show off its attributes.
Become our Lithuania Travel Expert
We are looking for contributors for our Lithuania travel guide. If you are a local, a regular traveller to Lithuania or a travel professional with time to contribute and answer occasional forum questions, please contact us.