Regions
Introducing Malawi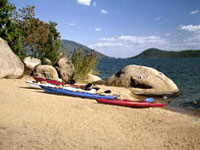 Cape Maclear © Malawi Tourism
Promoted as the 'Warm Heart of Africa', Malawi is a long, thin country renowned for the unequalled friendliness of its people, unspoilt national parks and wildlife reserves, and the beaches and tropical fish life of Lake Malawi, the third largest lake in Africa. The countries layout is dominated by the vast lake, as well as the Great Rift Valley that cuts through the country from north to south, creating fertile valleys, cool mountains and verdant plateaus.
Lake Malawi is an irresistible attraction for travellers with its beaches, resorts, watersports and outstanding variety of fish life a magnet for divers and snorkellers. The lake is home to a bigger variety of fish species than any other freshwater lake on earth, most of them protected within the Lake Malawi National Park at its southern tip. Most visitors head for the small, restful village at Cape Maclear which, along with its offshore islands, is part of the park. Equally popular, Nkhata Bay to the north has bays, beaches and various water activities. Spread along the length of the lakeshore are numerous traditional fishing villages, and the fishermen in their dugout canoes form a quintessential postcard silhouette against the spectacular golden sunset.
Malawi is also blessed with numerous game reserves and national parks that are uncrowded, well stocked with animals and a renowned variety of birdlife, and offer a unique wilderness experience. The northern Nyika Plateau, at around 7,500ft (2,300m), is one of the world's highest game reserves and is a remote area located in the most unspoilt and least visited part of the country, with beautiful grasslands and waterfalls, the highest concentration of leopard in Central Africa, and famous for its abundant orchid species. To the south the best-known park is Liwonde National Park with thousands of hippos and crocodiles on the banks of the Shire River, as well as large numbers of elephants, zebra and antelope.
The southern part of the country is the most developed and the most populated. Although Lilongwe is the capital, the region is home to Malawi's largest city and main commercial centre, Blantyre, which is a good base for visiting two of the area's attractions - the vast massif of Mt Mulunje, offering some of the finest hiking trails in the country, and Zomba Plateau.
Malawi has remained peaceful for over a century, unaffected by war and internal strife that has torn many other African countries apart, and although poor and densely populated, the country offers visitors a wealth of scenic highlights, culture and activities.
Become our Malawi Travel Expert
We are looking for contributors for our Malawi travel guide. If you are a local, a regular traveller to Malawi or a travel professional with time to contribute and answer occasional forum questions, please contact us.