Cities
Regions
Introducing Malaysia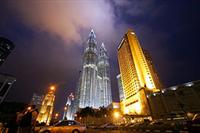 Kuala Lumpur at night © judhi
Malaysia Travel Guide
As evidenced by its large population of expatriate workers, Malaysia is an extremely popular Southeast Asian travel destination. A foreigner-friendly, culturally interesting place, Malaysia also offers great weather, white-sand beaches, snorkelling and diving opportunities, top-class shopping and dining options, and a wealth of unmissable sights and attractions.
The west coast of Malaysia is home to Kuala Lumpur, Malaysia's glittering, cosmopolitan capital city. The city abounds with excellent sights and activities for tourists, from the lofty Petronas Towers, to the nearby Batu Caves. Kuala Lumpur is also a world-famous shopping destination and a gastronomic delight, as various national cuisines combine to offer a wealth of options for the adventurous palate.
The east coast is home to several easy-to-reach tropical islands (such as Sibu and the Perhentian Islands), offering snorkelling and diving. In the north of Peninsula Malaysia several hill resorts offer a welcome respite from the heat and humidity of the coast. Hill resort holidays in Malaysia are becoming increasingly popular, and visitors have a good selection to choose from: The Cameron Highlands is the most refined, Fraser's Hill the most tranquil, and the Genting Highlands the most developed of Malaysia's hill resorts.
Nature-lovers will not want to miss East Malaysia, a rich and varied tropical island teeming with outdoor and watersport opportunities in the twin states of Sabah and Sarawak. Visit Kinabalu National Park, an area so full of biodiversity that it has been declared a UNESCO World Heritage Site, or head to Sipadan Island and experience what are widely considered to be the best diving and snorkelling sites in the world.
Best time to visit Malaysia
Malaysia has a humid tropical climate, characterised by high temperatures all year round. The monsoon season (November to February) brings heavy rain to the peninsular region. The best time to visit Malaysia is between April and October. Bear in mind that if you're suffering in the heat down at the coast, the highland region in northern Malaysia is significantly cooler. Read more on Malaysia's Climate and Weather.
What to see in Malaysia
- The Petronas Towers, the world's tallest twin skyscrapers, are an inspiring sight, and the view of Kuala Lumpur from the Skybridge is not to be missed.
- The Batu Caves are decorated with Hindu shrines and wall paintings, and remain an important pilgrimage site to this day.
- Taman Negara National Park is home to one of the world's oldest natural rainforests.
- The duty-free resort island of Langkawi offers splendid beaches and an array of excellent entertainment options.
What to do in Malaysia
- Practice your haggling skills at Petaling Street, Malaysia's vibrant Chinatown area.
- Head to world-famous Pulau Sipadan, a gorgeous island that offers unbeatable snorkelling and diving opportunities.
- Hike up Mount Kinabalu, and be astounded by the rich diversity of the surrounding National Park.
- Sample Malaysia's diverse and delicious national cuisine in Penang, a gourmand's dream holiday destination.
Getting to Malaysia
Cheap flights to Malaysia are easy to find from the UK and US. Direct flights to Kuala Lumpur are available from London, while those flying from the United States will have to book a connecting flight. Penang is also accessible by air, usually from Kuala Lumpur or other Southeast Asian cities such as Bangkok or Hong Kong. Get more information on Airports in Malaysia.
Read
Evening is the Whole Day by Preeta Samarasan, Inspector Singh Investigates by Shamini Flint, and The Harmony Silk Factory by Tash Aw.
Watch
Entrapment (1999), Lust, Caution (2007), and After This, Our Exile (2006).
Eat
Sate (slivers of chicken or beef dipped in a spicy peanut sauce), nasi goreng (fried rice), and nasi lemak (coconut rice served with fried anchovies, peanuts and a curry dish).
Drink
Kopi (coffee) or teh tarik (pulled tea), the latter of which is usually served with a shot of condensed milk.
What to buy
Traditional fabric known as batik and carved wooden figurines.
What to pack
For Malaysia pack lightweight clothing, insect repellent and sunscreen. Make sure you have a small backpack to carry with you on day excursions, containing a rain-slicker and plenty of water.
What's on in Malaysia
The annual KL Tower Jump (September/October) sees BASE jumpers making repeated leaps off the 1,381-foot (421m) building, indulging in free-fall before opening their parachutes and delighting the crowds below. Head to Kuala Lumpur for Chinese New Year (January/February) and enjoy the spectacle of light and colour in Petaling Street. The Malaysian Grand Prix (March), held at the ultra-modern Sepang track, is one of the first meetings of the F1 season and has a reputation for providing thrilling results.
Did you know?
- The Malaysian state of Sabah is home to the Rafflesia, the heaviest single flower in the world.
- The word ringgit (Malaysia's currency) means 'jagged' in Malay, and originally referred to the separated edges of Spanish silver dollars that were widely used in the region.
- Malaysia produces only about 15 feature films, but between 300 and 400 television dramas and serials every year.
A final word
From ancient rainforests in well-managed nature reserves to pristine beaches, and from the glamour of Kuala Lumpur to the gastronomic delights of Pengang, a holiday in Malaysia is sure to be spectacular.
Become our Malaysia Travel Expert
We are looking for contributors for our Malaysia travel guide. If you are a local, a regular traveller to Malaysia or a travel professional with time to contribute and answer occasional forum questions, please contact us.