Introducing Marshall Islands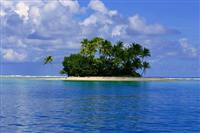 A lonesome atoll © Christopher Michel
The Republic of the Marshall Islands is a collection of 29 atolls and five islands scattered across the middle of the Pacific Ocean. Home to around 60,000 people, the islands have been inhabited for over four millennia, despite their comparatively recent naming after John Marshall, the first European visitor in 1788.
Between 1946 and 1958 the USA detonated 66 nuclear weapons on and around these islands including the largest ever device, Castle Bravo. While the Republic's rather compelling lawsuit against the USA is being argued, the good news is that today scientists estimate that you are exposed to more radiation watching TV in your home than spending time on the islands. More pressing concerns are the prolonged drought, high cost of energy, and lack of employment opportunities.
The most promising area in that regard is tourism, which is growing steadily. Visitors come here for the incredible diving among the many World War II era wrecks, and the fabulous beaches, many of which are deserted save for palm trees and swathes of white-golden sand.
As a low-lying atoll, the Marshall Islands are seriously threatened by rising sea levels caused by global warming. Plans have already been put in place to evacuate the population should this threat become a reality.
The climate is generally hot and humid, with May to November being the wet season when the odd hurricane blows by to the horror of tourists and delight of the kite flying community.
The capital Majuro is a pleasant town and well worth exploring. All trips begin and end here and the facilities are very good. Beyond Majuro the outlying islands and atolls vary from sparsely populated to uninhabited and there are plenty of opportunities to truly get away from it all should you wish.
Become our Marshall Islands Travel Expert
We are looking for contributors for our Marshall Islands travel guide. If you are a local, a regular traveller to Marshall Islands or a travel professional with time to contribute and answer occasional forum questions, please contact us.