Regions
Ports of Call

---
Forte-de-France Port of Call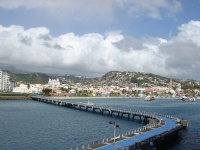 Sunset in Martinique © Antoine Hubert
On the French territorial island of Martinique, the port city Fort-de-France is aptly a blend of white walled colonial architecture set against a background of working plantations and a strongly Francophile culture.
The city's most popular attractions include the Eden-like central park La Savane and the French architecture downtown including a quaint historic library. A line of white sand beaches are popular south of the city.
Small cruise ships can berth at the Pointe Simon dock that lays directly at Forte-de-France city centre. The cruise facility can currently accommodate two ships but is being expanded. Most larger cruise lines use the Tourelles Terminal which is also used as a cargo dock and is nearly a 15 minute walk from the city. When the Tourelles' three berths are occupied cruise liners can anchor just off Pointe Simon and tender passengers to its dock.
---
Contact
A tourism office is located at 76, rue Lazare Carnot
Tel: 596 616 177
Transport
From Tourelles Terminal waiting taxis are readily available. A pleasant walk from the terminal to the city takes nearly 15 minutes. From Pointe Simon the city centre is just off the dock walkway. The city in easily walkable as are nearby beaches although well regulated taxis are available from any part of the city. Private companies run shuttles to nearby municipalities.
Attractions
The pleasant French colonial style architecture of the city makes for great sightseeing including an impressive cathedral, library and large park. Organised walking tours are a popular way to see the city's history. Beautiful beaches south of the city are wonderfully uncrowded as are the nearby rum distilleries and working plantations that can be visited while riding on a 4x4 tour.
Restaurants
La Belle Epoque - Fine French dining above the city.
Le Dôme - Caribbean and French fusion with a great view.
Le Planteur - Creole creations in the heart of downtown
Best Dish
Colombo (unique local curry with chicken and vegetables)
Shopping
Everything French is available in the city, much of it at the duty free shopping centre at the terminal or at city centre marketplace. Jewellery, high fashion, handbags and perfumes are all popular as well as more Caribbean styled crafts. There are also boutique shops downtown and great deals on rum at the distilleries.
Best Buy
French perfume or rum
Excursions
Take a drive to the infamous volcanic town St. Pierre
Ride the ferry to Pointe du Bout
Beach bum on Les Salines
Sailing and diving/snorkelling off the coast
Become our Martinique Travel Expert
We are looking for contributors for our Martinique travel guide. If you are a local, a regular traveller to Martinique or a travel professional with time to contribute and answer occasional forum questions, please contact us.