Introducing Mayotte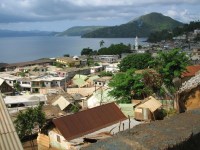 Sada © Christopher Laborderie
Located in the Comoros group of islands between Madagascar and Mozambique, Mayotte is set apart by its decision in the 1970s to remain a French protectorate. In 2011 the island officially became France's 101st 'department'.
Although it is officially part of France, Mayotte has little in common with its parent country. French, the official language, is spoken by only about 35 percent of the population, while local dialects like Mahorian and Malagasy are more common. The population is mostly Muslim, and is home to many immigrants from the Comoros.
Mayotte is made up of two islands, Grande-Terre and Petite-Terre, with sparkling white sand beaches and excellent diving among the colourful coral reefs. Sea turtles lay eggs on the southern beaches, while lemurs make their home in the interior. The best views of the islands are to be had from the summit of Mount Choungui, a popular hiking spot.
The islands have no large cities, however the biggest town, Mamoudzou on Grand-Terre, is a busy town with banks, restaurants, hotels, bars, and a bustling market.
Mayotte is a stunning setting for a relaxing holiday on the Indian Ocean; however it is considerably more expensive than other islands in the archipelago, with prices on a par with destinations in Europe.
Become our Mayotte Travel Expert
We are looking for contributors for our Mayotte travel guide. If you are a local, a regular traveller to Mayotte or a travel professional with time to contribute and answer occasional forum questions, please contact us.