Cities
Regions

show more Regions
Ports of Call

---

---

---

---

---

---

---

---

---
Enseneda Port of Call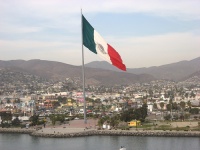 Relax at Vallodolid, Yucatan © larry&flo
Ensenada, the low slung Baja city 70 miles (116km) south of the US border, is mostly known as an quick tourist stopover. Although not the most attractive port city there are a number of tourist activities.
If lucky enough to be in Ensenada at the right time it can be a great whale-watching starting point in winter, and others can catch the start of the infamous Baja 1000 race.
Many short-term cruises stop in Ensenada cruise port, often on short trips from Los Angeles and on one-day cruises from San Diego, making it one of the Baja's busiest ports of call. Cruises in Ensenada berth at Ensenada Cruiseport Village, which is directly in the main port and city centre.
---
Contact
Tel: +1 (664) 682-3367
www.ecpvmarina.com or www.enjoyensenada.com
jleonz@baja.gob.mx
A tourism office is located across from the Ensenada Cruiseport Village
Transport
Most of Ensenada is easily walking distance from the Cruiseport Village. Taxis line up on the adjacent street. Many passengers will want to take the transportation provided by cruise line organised shore excursion.
Attractions
Timing Ensenada cruises correctly gives visitors the best attractions, including whale watching in the winter from November to March and the Baja 1000 race in December. In summer months tourists can catch the wine festival which is celebrated in Ensenada in August. Year-round attractions include visits to wineries, the famous former bar Riviera del Pacifico, and several surf and water recreation full beaches just outside of town. A pretty hot nightlife is a bit infamous.
Restaurants
Black Market - A selection of great fish taco stands
El Rey Sol - Popular tourist restaurant for French fine dining
Sano's Steakhouse - Large, good steaks with a buffet
Best Dish
Fish Taco
Shopping
There are heaps of junky souvenirs spilling out of stalls all around town. It can be fun to peruse through it and buy some kitsch gifts. Los Globos flea market can be a good place to sort through the best of it. Avenida Lopez Mateos is great for better Mexican crafts and jewellery and First Street is a mixture of the two.
Best Buy
Low cost spirits
Excursions
See the famous blow hole La Bufadora
Explore Laguna Hanson and the surrounding national park
Be a vaquero (cowboy) for a day in a nearby ranch
Golf in a seaside course
Take a wine tour
Become our Mexico Travel Expert
We are looking for contributors for our Mexico travel guide. If you are a local, a regular traveller to Mexico or a travel professional with time to contribute and answer occasional forum questions, please contact us.
Intrepid Travel is one of the world's leading suppliers of small group adventures focused on getting off the beaten track and having real life experiences in Mexico.
ADVERTISEMENT
---